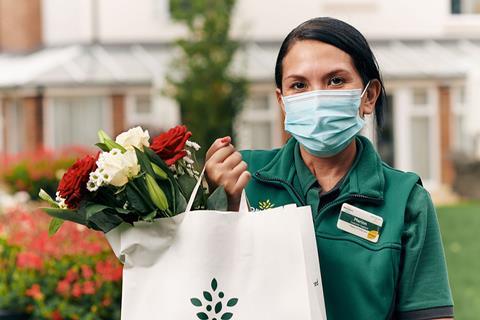 Retail bosses are calling on the government to clear up confusion over its new policy on masks, with less than 24 hours before the new rules come into place.
The Grocer understands supermarket and convenience store chiefs met with BEIS bosses yesterday to call for greater clarity over Boris Johnson's plans, made as part of his six-month package of measures to try to tackle the coronavirus second wave.
The government has not yet clarified the penalties and enforcement action, but shopworkers are facing the possibility of £200 fines for not wearing masks, while it is thought stores could face fines of up to £10,000 if they are found to be in breach of Covid restrictions.
One retail source told The Grocer: "The industry is urgently calling on the government to clear up confusion on this.
"It is still not clear whether the rules mean all staff will be forced to wear mask at all times, or whether there will be exceptions, such as when staff are behind Perspex screens.
"We also have serious questions over the enforcement issue.
"Retailers are worried that if we are not careful this could become a charter for malicious complaints from the public, with staff already having suffered a great deal of abuse and even violence since the pandemic began."
Read more:
With the new rules due to come in tomorrow, the government is expected to publish more detail later today, but the confusion has provoked anger from retailers who are already facing huge economic and staffing issues from the crisis.
"The guidance and regulations are still under discussion," said supermarket source.
"The face covering requirement in retail is expected to come into force from 12.01am on Thursday and it is expected that the current exemptions for customers will apply to retail workers – to be confirmed.
"But It is uncertain whether there will be mitigations such as if there are Perspex screens and the enforcement approach still being discussed."
Meanwhile, the Usdaw union renewed calls for the government to protect rather than target frontline shopworkers.
"The increase in Covid-19 cases is alarming and we urge the government to ensure key workers are protected," said Paddy Lillis, Usdaw general secretary. "We are deeply worried about safety measures not being followed and the impact that has on the safety of staff.
"Usdaw members in food retail are key workers delivering an essential service and have worked extremely hard in stressful environments to ensure that the nation remains fed.
"Despite this, during the height of the first wave of the outbreak, violence and abuse toward shop staff doubled. It is clear that such behaviour is unacceptable; abuse is not part of the job."
He added: "We note that face coverings are going to become mandatory for shopworkers in England, as they currently are in Scotland for staff who are not behind screens. We are urging employers to ensure staff get regular breaks where they can take the face covering off and change it for a fresh one. We also encourage managers to be sympathetic to workers who are exempt from wearing masks."