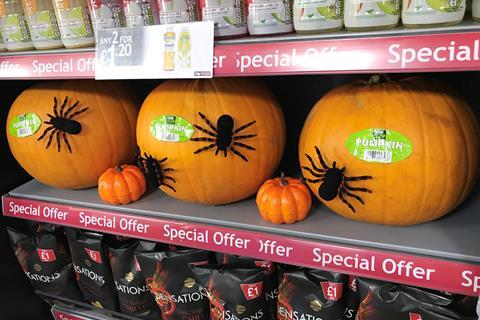 Supermarket and convenience store bosses have expressed outrage at Welsh government plans to ban the sale of 'non-essential' items under its coronavirus 'firebreak' lockdown.
New guidelines will only allow supermarkets, convenience stores, pharmacies and off-licences to remain open, mirroring the 15 weeks of lockdown seen in the spring and far harsher than England's current tier system.
But the Welsh government is also due to publish a list of non-essential items that could be temporarily banned from sale from 6pm tonight, including clothing, homeware and even Halloween products such as pumpkins.
The Grocer has learnt customers going to supermarkets to pick up click & collect orders will also be barred from ordering non-essential goods.
In crisis talks with Welsh leaders this morning, industry bodies were urgently calling for clarity, amid concern whole areas of stores could need to be 'roped off' to consumers.
The moves come as tighter lockdown measures continue to be rolled out across the UK. Industry leaders have issued a dire warning to ministers not to close down non-essential retail or risk a disastrous impact on the recovery.
"Retailers must not be forced to stop making products available to customers just because ministers don't think they're essential," said ACS CEO James Lowman.
"These regulations are badly thought out, providing little to no notice to retailers, and must be scrapped to avoid chaos in shops across Wales. The confusion and confrontations between customers and shopworkers this rule will trigger will ultimately lead to more contacts and time spent in proximity to other people, which is the exact opposite of what ministers are aiming to achieve."
The firebreak in Wales will last two weeks, ending on 9 November.
"Compelling retailers to stop selling certain items, without them being told clearly what is and isn't permitted to be sold, is ill-conceived and short-sighted," said Sara Jones, head of the Welsh Retail Consortium.
"We hope ministers will rethink this particular part of their fire-break plan."
Responding to the latest ONS Retail Sales Index figures, which showed a 5.8% increase in overall sales, BRC CEO Helen Dickinson warned the tightening of lockdown across the UK could jeopardise the industry's fragile recovery during the crucial festive trading period.
"The retail recovery remains fragile as the industry enters the all-important Christmas period, with November and December typically accounting for over a fifth of annual sales," she said.
"While food and online retail continued to show strong growth, high street shopping has struggled in recent months, with footfall still down by over a third. Tighter government restrictions have taken their toll on fashion and beauty sales, while home office and computing equipment has benefited.
"Retailers have spent hundreds of millions to make stores Covid-secure and keep staff and customers safe. Furthermore, they are encouraging the public to shop early for Christmas and prevent the last-minute rush, so that everyone – from shoppers to warehouse workers – will have the space they need to stay safe and well. Retail has proven itself to be a responsible industry during this pandemic, and government should not risk the retail recovery by closing stores during the all-important run-up to Christmas."
A Welsh government spokesman said: "The firebreak is designed to reduce all physical contact between households to an absolute minimum in order to slow the spread of coronavirus and save lives.
"We have a small window in which to take this action and there are no easy choices. However, we fully recognise the impact the firebreak will have on businesses and are making a further £300m available to support them through this difficult period."
The latest controversy follows anger in the first stage of lockdown, when environment health officers were accused of approaching convenience store and newsagent owners stipulating they should not sell non-essential items, including Easter eggs.