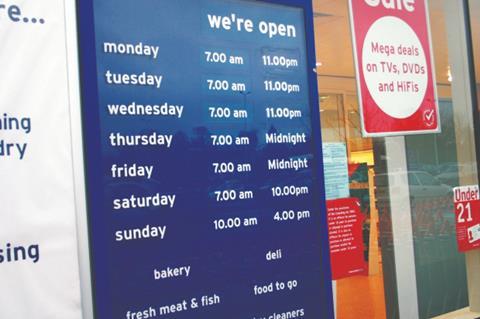 The government is continuing to gather evidence on the impact of extending Sunday trading laws in England and Wales, The Grocer can reveal.
Retailers and industry bodies have been asked to submit their views on a possible extension by the Department for Business, Energy and Industrial Strategy this week.
The move comes despite reports earlier in the summer the government had shelved plans to change the existing rules, which limit stores larger than 3,000 sq ft to opening just six hours between 10am and 6pm on a Sunday.
It emerged in June that an extension was part of the government's plans to help kickstart the economy post-lockdown. However, later that month The Telegraph reported the government had backed down in the face of a potential revolt by more than 50 Conservative MPs, with the official line being that the issue was under review.
In its latest communication with retailers, seen by The Grocer, BEIS suggested it was still being considered as an economic recovery measure but also that it was looking at the changing picture of Covid-19 in the UK and overseas, suggesting longer opening hours could be one contingency plan if further local or national lockdowns were introduced.
Retailers have been asked to provide details on footfall numbers before, during and after lockdown, the impact of social distancing, and views on the potential benefits and extra costs of an extension. BEIS did not suggest any firm plans or timeframes.
These rules remain a hotbed of contention. On one side of the debate is the Keep Sunday Special campaign – a long-standing alliance of the ACS, Usdaw and the Church of England. However, the supermarkets are divided, with Morrisons the biggest supporter of change and Sainsbury's and Tesco understood to favour the status quo.
"It is so frustrating that the divisive subject of Sunday trading keeps coming to the fore at a time when the retail sector is in crisis with thousands of jobs being lost every week," said one source familiar with the review. "Especially when there is consensus across the sector on issues that can make a real difference, like business rates, rent relief and taxation."
A BEIS spokesman said: "The existing laws on Sunday trading still apply. We continue to have regular conversations with the food sector and will keep measures under review."