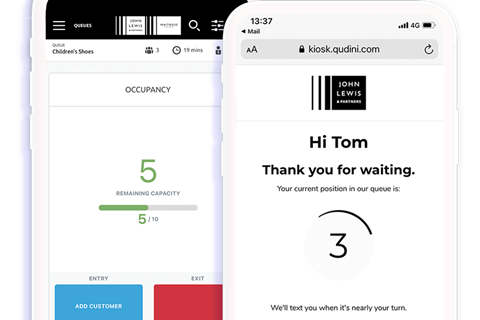 The John Lewis Partnership is trialling a virtual queueing system at six Waitrose supermarkets and three John Lewis branches.
The scheme is designed to eliminate physical queues and manage the flow of shoppers for a more convenient in-store experience.
If there is a queue forming in one of the participating stores, customers will be invited by staff to scan a QR code or text an SMS code with their mobile device located outside the shop to join the virtual line or book a specific time slot to return. Those without access to a mobile device can join the virtual queue with partners' assistance.
The four-week pilot system will provide users with access to real-time visibility of the queue via an SMS message containing a link so they can wait away from the store while monitoring their position in the line. When the customer nears the top of the queue, they will receive a further SMS message letting them know it is their turn to enter the shop.
Shoppers also have the option to pre-book a day and time to visit one of the branches or join lines for specific in-store departments. For instance, in John Lewis Brent Cross and Kingston, shoppers will be able to join a virtual queue for children's shoes and in John Lewis Horsham, customers will be able to join a virtual queue for technical services.
JLP will be able to track the number of shoppers entering and exiting the stores, enabling them to control customer flow and ensure a safe number of people in the shop at any one time.
The trial began today (24 August) and will continue until 19 September at Waitrose shops in Gerrards Cross, Holloway Road, Horsham, Parkstone, Sheffield and Weybridge, and John Lewis stores in Brent Cross, Horsham and Kingston.
The system has been introduced in partnership with JLAB finalist Qudini. JLAB is JLP's incubator scheme offering innovative brands the opportunity to pitch and trial their products with the retailer. The initiative has been on hold since February as part of the group's bringing together of its retail business and Waitrose chain under one managerial team.
"As a nation, we're famous for our love of queuing but as the uncertainty around the pandemic continues and the long hot days of summer become a distant memory, we know a long wait outside in the rain to enter your favourite shop isn't an appealing notion for anyone," said Peter Cross, customer experience director at Waitrose.
"Which is why we are thrilled to work with Qudini on this brand new trial, which will let you wait for your turn in line from the comfort of your car, ensuring that everyone can continue to shop safely and seamlessly. It's a great opportunity for us to test the viability of this type of queueing for the future."
The trial follows Sainsbury's introducing a similar queueing method at five of its branches from the end of July.
It also comes as JLP chairman Sharon White told the Sunday Times the partnership may be scrapping its 'Never knowingly undersold' price promise after 95 years. White said: "The proposition is important because it signifies being fair to society. We're reviewing it to improve it."
The slogan sees the retailer offer to refund the price difference if customers purchase one of its products, but find it cheaper elsewhere (excluding online-only retailers) within 28 days.