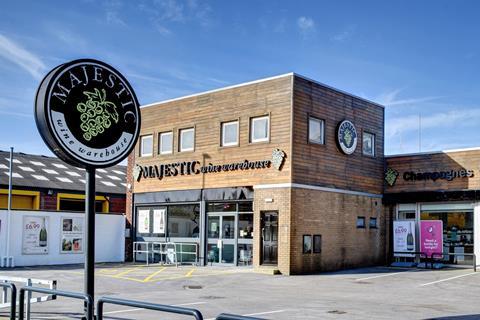 Majestic Wine is to open new stores after enlisting a surge of new customers over lockdown.
The retailer, which was aquired by US investment firm Fortress last year, has unveiled plans for two new shops in Henley and Beckenham, and has unveiled a swathe of plans its CEO John Colley believes will help return the business to profitability levels not seen at Majestic since 2015.
Despite closing the doors to its stores over lockdown, Majestic grew its customer base by 150,000 thanks to implementation of a local delivery service, with online sales growing by 300% over lockdown. However, the retailer said this demand had been "offset by additional costs, as well as the significant reduction in business in the Commercial arm (Majestic's B2B unit) and Calais stores".
Colley told The Grocer: "Home delivery worked very well for us. You might not be getting the full Majestic experience like wine tasting and events, but the infrastructure we have gives us more flexibility even than a pureplay. We've got heritage and flexibility with our operating model."
But, he stressed: "We believe in retail and being an experiential retailer and a key part of that is the stores – the previous management team weren't convinced by that or committed to it. In the last six months we have reviewed our portfolio and looked at locations in the country where we think Majestic would be better suited, like Henley, where the demographic suits our business."
Majestic has also "refocused" its plans for Majestic Commercial, the on-trade distributor wing of its business. "The previous approach was to get as many on-trade customers supplied as possible, but that's not what Majestic really does. We sit in a certain spot in the marketplace, the best on-trade accounts for us are a certain type of food-led business.
"What we've done is streamlined the team – unfortunately that does mean two or three roles there no longer exist – and refocused," he said, adding Commercial would seek out accounts that were "more profitable for us and stickier".
"We're not Matthew Clark, we're not Bibendum, we deliver to on-trade customers from the shops, and what's interesting is that even since the hospitality market has opened up, we've acquired a significant amount of new accounts because we can deliver locally very quickly."
Meanwhile Majestic is en route to completing a review of its entire range, kicked off by its COO, former Tesco booze boss Rob Cooke, which is due to complete by the end of the year.
"Rob has done an amazing job," said Colley. "Very early on after joining the business he said 'look, you're taking things out that your customers actually like buying' such as well-known brands that you would expect to see in our stores."
Just last week, for instance, Majestic unveiled a major expansion to its Definition own-label wine range, growing it to 29 SKUs with a slew of "prestigious" additions.
Majestic is also in the process of rolling out new systems and tills, and will shortly launch a new website which allows shoppers to check local store stock levels.