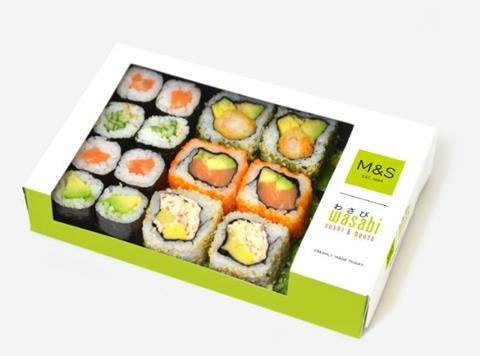 Marks & Spencer is trialling fresh sushi counters across five of its stores in partnership with sushi and bento chain Wasabi.

The foodhall counters will offer a number of Wasabi's products, including its fresh raw sushi and hot meals, in line with M&S' ethical sourcing standards.

As a concession service, customers order at the Wasabi counters and pay at the M&S checkout.

"At M&S we put the customer at the heart of everything we do and we're excited that this partnership will see us bring new products and a new experience to our customers", said M&S food director Andy Adcock. "Health, convenience and food on the move are all growing areas of our business and by working with an expert partner we know we can offer our customers the very best."

The founder of Wasabi, Dong Hyun Kim, added: "This partnership is extremely exciting for Wasabi. Our customers know that they can expect high-quality, affordable sushi and hot food from us. We're delighted to have the opportunity to bring our expertise and innovation to Marks & Spencer customers as well. M&S has been a sign of quality for 133 years and I am confident that this partnership will lead to more success for both businesses."

Four of the five stores involved in the trial are based in London with one in Milton Keynes. All counters are expected to be up and running before Christmas.

M&S' newest store in Bishopsgate opened last week, with six more arriving over the coming year.

The move comes as Waitrose launched its 50th sushi counter this week. It confirmed it would add 25 more by the end of January 2018. Sainsbury's also has plans to increase the number of its sushi counters, from 20 to 50 by the end of the year.