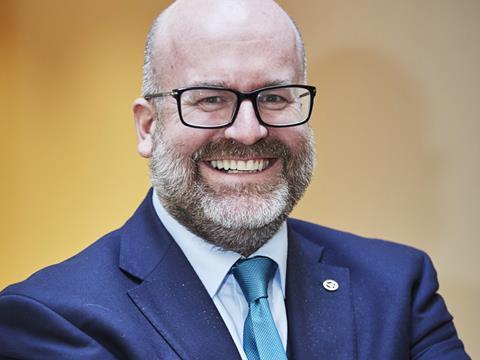 Spar retailer Paul Stone is set to open a deli and foodservice operation in September.

The new store, which will be Stone's seventh shop, will open on the site of an HSBC Bank in Charles St, Manchester, with a 40-seat deli and dining area.

The deli will feature a salad bar, made-to-order sandwiches, wraps, breakfast pots, ice cream and Stone's own Cheeky Coffee brand.

The new store will also sell new own-label fresh juice brand The Squeeze Juice Company. Its products are made of waste fruit and veg from Stone's Spar stores.

"The success of Cheeky Coffee has led us to do a new project called the Charles Street Deli," Stone told the audience at The Grocer's Annual Lunch.

"There will be some take-home products in there but it will be primarily a foodservice operation."

Stone has also snapped up a former Best-One site on King St West in Manchester city centre to open a new 24-hour Spar.

"It's harder and harder to get good empty units," said Stone.

"New developments want big brands like Tesco and Sainsbury's. For the last couple of stores we have bought independents who are in the right location but are not quite doing it right."

Meanwhile, the retailer has gone live online with Uber Eats in Manchester to deliver alcohol and snacks to nearby customers under The Booze Brothers name.