Cost of basket of fruit & veg moves up 3% on last month
The mults have pushed up prices of some bestselling imported fruit and veg lines in the wake of weather-driven shortages and the Brexit vote.

A basket of 60 key fruit and veg SKUs is 3% more expensive in the mults than it was last month, though it remains 2% cheaper than a year ago [Brand View 52 w/e 15 February 2017].

Some individual SKUs are significantly more expensive than a year ago - including those affected by widespread shortages in the wake of poor weather in Spain.

An own-label iceberg lettuce is now 42% more expensive in the mults at an average of 89p - up from 52p in February 2015 [52 w/e 15 February 2017]. Tesco and Asda have hiked prices on the SKU by 53% to 75p, Morrisons by 166% to £1.17 and Waitrose by 50% to 90p.

A pack of two romaine lettuce hearts is up 9% at £1.25, while an individual cucumber is also 9% more expensive at 50p on average. Loose courgettes are 1% more expensive at an average of £1.96 per kilo after Asda hiked its price by 5% to £1.89 and Morrisons by 7% to £2.14.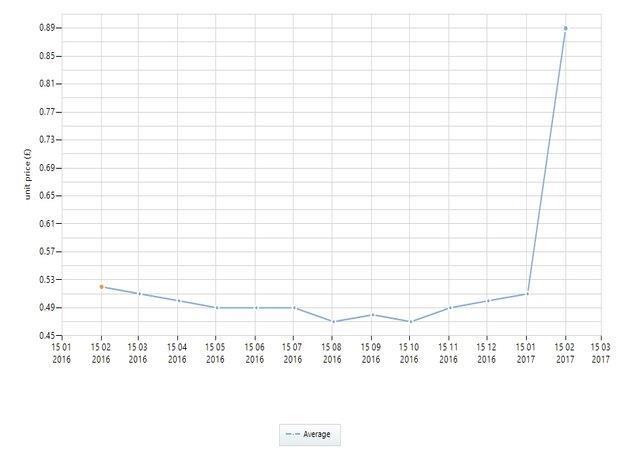 Own-label cherry tomatoes are also more expensive following shortages from Spain - with a 250g-400g pack now 16% pricier in Asda at 81p, 6% more expensive in Sainsbury's at 85p, and 10% dearer in Morrisons at 71p.

Salad crisis aside, there have also been some year-on-year price hikes on exotic fruit - typically traded in dollars - in the wake of the devaluation of the sterling following last year's Brexit vote.

As The Grocer has previously reported, own-label loose bananas are now 6% more expensive on average at 72p per kilo. Meanwhile, an own-label cantaloupe melon is up 12% in the mults at an average of £1.91, after Tesco, Asda and Sainsbury's hiked prices on the SKU, while a large pineapple is 2% more expensive at an average of £1.58. And after Irish mushroom suppliers warned at the end of last year that Brexit was putting their businesses at risk, the average price for a 250g-300g pack of chestnut mushrooms is up 2% in the mults. Asda and Morrisons have both increased prices on the SKU to £1, in line with the other supermarkets.

Growers have warned the shortages of crops affected by record rainfall in the Spanish region of Murcia - including spinach, courgettes, peppers, tomatoes and salad leaves - could last until May. Recent figures by IRI suggested supermarkets could have lost fresh produce sales worth £8m as a result of the situation.

Meanwhile, the latest Grocer Price Index found that deflation on food and drink has ground to a halt for the first time since 2014 following the post-Brexit plunge in the pound.

Although the sterling has stabilised in recent months, suppliers' currency hedging positions are unwinding, and the industry is having to pass on the costs of rising prices.