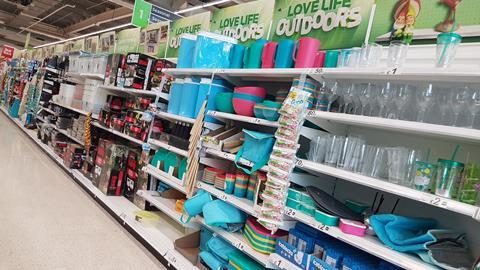 The Welsh government has confirmed large parts of supermarkets and convenience stores must be closed off during its 'firebreak' lockdown measures, which come in at 6pm today.
Guidance published on the government's website warns toy sections, clothing and a large range of electrical items will be shut down.
The restrictions, which come despite outrage from retail leaders in emergency talks yesterday and today, state businesses that would normally sell a range of products in their stores may only sell items that fall into limited essential categories, such as food and drink.
Only non-food products that are "for essential upkeep", such as batteries, lightbulbs and rubber gloves, would be able to remain on sale.
Pictures have already emerged on social media of supermarket staff cordoning off store aisles.
Non-essential items being covered up in supermarkets in Wales. Has it really come to this? pic.twitter.com/YwtIUjgc8P

— Grant Tucker (@GrantTucker) October 23, 2020
"It will be important for such stores to manage access to different categories of goods in a way that ensures customers and staff can circulate safely within the store," states the guidance.
"Some products may need to remain available to avoid creating unnecessary constraints on a mixed product aisle to the safe circulation of customers.
"In large supermarkets or department stores, in most cases it will be clear that certain sections or aisles of the store must be cordoned off or emptied and closed to the public. As the main categories, those parts of a store selling electrical goods, telephones, clothes, toys and games, and products for the garden should be closed to the public – and these products should not be sold."
The guidance adds that shops should close dedicated sections selling homeware products including utensils, crockery, furniture, bedding and decorative objectives for the home. Basic necessities such as batteries, lightbulbs and rubber gloves that would often be sold in other types of shop that are allowed to remain open such as petrol stations and newsagents – may continue to be sold.
"Shops will be expected to use their best endeavours to consider what should be available," says the guidance. "Products that can't be sold, but which are normally located amongst goods that can be sold, should ideally either be removed or sealed off, preferably the former.
"We expect shops to ensure that these products are not sold, though enforcing this rule need not necessarily be the responsibility of 'front line' staff such as those working on the checkout."
As The Grocer revealed earlier today, the ban also places major new restrictions on click & collect services, which have experienced a boom since the pandemic began.
Only shops that are allowed to be open will be able to continue to offer click & collect services, and the advice says "these services should only be available for items that are allowed to be sold in store where possible".
It adds: "We recognise that some online services will not be able to differentiate between different categories of goods, and in those circumstances it would not be proportionate to cease all click & collect services, given that the impact of that would likely be to increase the number of people attending stores in person."
ACS CEO James Lowman said: "The Welsh government has given retailers just a few hours to comply with the regulations and associated guidance, which still put a lot of the responsibility on the retailer to determine whether a product range is non-essential. We remain concerned about the justification for these measures and the lack of information given to businesses, but will help retailers to communicate the new rules to customers wherever possible."
A Tesco spokeswoman said: "Our colleagues across Wales will be working incredibly hard today so we can comply with the Welsh government's ban on selling 'non-essential' goods to our customers from 6pm this evening."
A Sainsbury's spokeswoman said: "We're focused on providing our customers with food and other essential items in line with government guidance. Our colleagues have been working around the clock to put the changes in place."
A Waitrose spokeswoman said: "We are currently reviewing the guidance recently provided by the Welsh government and are working through what this means for our business."