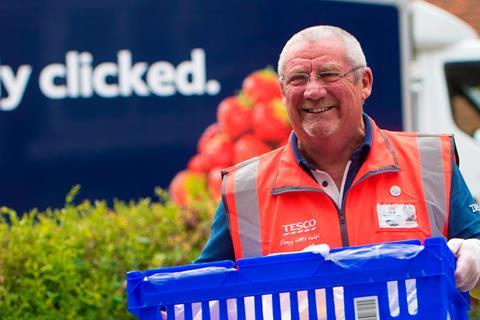 New Tesco CEO Ken Murphy said today he believes the switch to online shopping is "here to stay" after the supermarket revealed it had smashed its record for dotcom grocery orders as lockdown tightened.
The former Walgreens Boots Alliance executive, who delivered Tesco's first-half results today in his first outing since replacing Dave Lewis last week, revealed his first seven days at the helm had been the busiest ever for Tesco online, with more than 1.5 million orders.
Online grocery has now grown from 9% of Tesco sales before the crisis to 16% by the end of the first half.
"Clearly there been a massive shift online and we think a significant proportion of that will be maintained for the foreseeable future," said Murphy. "We don't regard this as cyclical. We think this trend is here to stay."
Despite the trend proving a massive boost to supermarkets' online orders, with Tesco's online sales soaring by 69% in the first half of the year, question marks have been raised about the profitability of online services and the impact on in-store shopping.
However, Murphy said the experience of the pandemic had shown online services could become more profitable, and also said the launch of a network of new urban fulfilment centres (UFCs) by Tesco could prove a "game changer".
"The profitably of online has improved. The average basket size has increased significantly, and our van utilisation has also improved dramatically," he said "Also, one third of our online orders are click and collect."
Tesco revealed today it would open its second UFC, in Lakeside, early next year, with the first having opened in West Bromwich last month. It is planning 25 of the facilities, which enable faster picking and quicker deliveries, within the next three years to add to its network of distribution centres and in-store picking.
Meanwhile, Murphy told The Grocer he had been fully consulted about Tesco's repositioning in the summer to an everyday low pricing (EDLP) model, which has seen Tesco demand better prices from suppliers to match the discounters.
He said: "I was kept fully in the loop of the move towards EDLP and Aldi Price Match and I'm fully supportive of that move.
"It's very important that we deal fairly with our suppliers and we are looking to have more long-term partnerships. But we must be sharp on value and that can't be allowed to change."