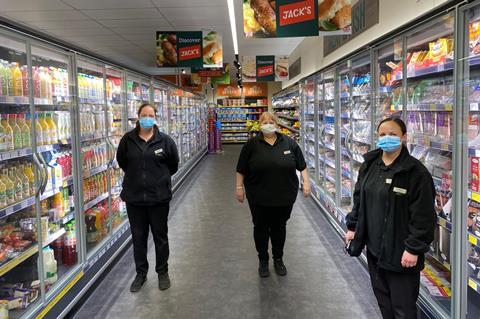 Frontline retail staff should be prioritised for vaccination against Covid and supermarkets must tighten current safety restrictions to protect them, union bosses have demanded.
In a letter to health secretary Matt Hancock and business secretary Alok Sharma, Usdaw urged the government to intervene to protect staff, saying they were being left too vulnerable to the new strain of the virus which has forced a new sweeping lockdown across other sectors.
The union is also urging retailers to "revisit" safety restrictions in store and consider reducing the number of customers allowed in back to the same limits as those introduced in March.
The letter claimed retail staff were at "greater risk of catching the virus and bringing it home to their families".
It also called for stronger action from retailers and the police to enforce the wearing of masks by customers to protect staff.
"Retail staff are working with the public every day and are not only suffering increased abuse but are also deeply worried about catching Covid-19," said Usdaw general secretary Paddy Lillis.
"That must be taken into account by the government when assessing risk levels and priority for vaccines and testing.
"We are calling on the government to ensure retail workers and delivery drivers are given priority, because they provide the essential service of keeping the nation fed.
"We are also looking for support from the government, retail employers and the shopping public to help make food stores and deliveries as safe as possible for customers and staff alike."
Meanwhile supermarket bosses have offered to help with the massive logistical challenge of rolling out the Covid vaccine.
Responding to the lockdown plans, BRC CEO Helen Dickinson said: "The government's testing programme and a rapid rollout of vaccines are the key to bringing an end to this cycle of lockdowns, and we have made clear to government that the retail industry is willing to make its resources available to support this effort.
"The continued rise in Covid cases over the Christmas period is a significant cause for concern, and we understand the need for the government to act.
"Retailers have been playing their part to make stores safe, spending hundreds of millions of pounds on coronavirus safety measures, including implementing social distancing measures and increased cleaning procedures."
However, Dickinson said the cost of the latest measures for non-essential retailers forced to close would be huge.
"The consequences of these latest restrictions – with non-essential retail already closed for several weeks – will be severe for many businesses who yet again face losing £2bn per week in sales."