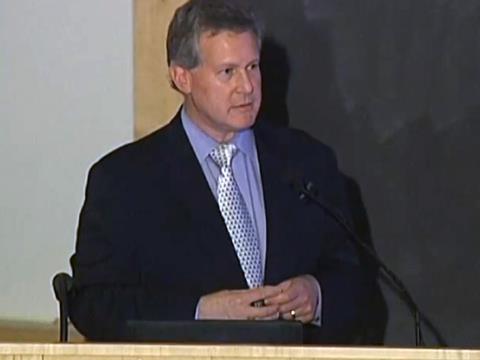 The US professor credited with launching the war on sugar has announced a UK lecture tour that coincides with a crucial Department of Health review of carbohydrate policies.
Dr Robert Lustig will address four meetings in London in July, in the middle of a consultation over the findings of the Scientific Advisory Committee on Nutrition (SACN) carbohydrate working group, whose draft report is expected in June.
Lustig, who shot to prominence with a YouTube lecture, Sugar: The Bitter Truth, in 2009, is a medical adviser for Action on Sugar, and among those calling for a tax on sugar, which he claims is addictive.
His views are so extreme, they are even disputed by some of those leading Action on Sugar's call for sweeping new government targets on sugar reduction.
"He is a hardliner but the reason that sugar is the number-one target is almost entirely down to Robert Lustig," said Professor Jack Winkler, former professor of nutrition policy at London Metropolitan University, who organised Lustig's lecture tour. "Almost everything Robert says is controversial."
One food industry source said he feared the tour was "aimed at deliberately trying to torpedo the SACN report".
"It appears Action on Sugar has decided even before the report comes out that it is going to rubbish it having already tried to discredit the chair [Professor Ian Macdonald] because of his links with the industry. What better way to do it than by inviting over the king of snake oil science?"
All-party group
On 10 July, Lustig will address the Food and Behaviour Research Conference, the Sugar Reduction Summit and the new All-Party Parliamentary Group on a Fit and Healthy Childhood.
The all-pary group held its first meeting this week, at which Professor David Walker, deputy chief medical officer for England, repeated CMO Dame Sally Davies' warning that a sugar tax may be needed unless the industry steps up its voluntary reformulation of products to strip out sugar.
Professor Winkler, who also spoke at the hearing and who opposes plans for a sugar tax, said: "What Dame Sally and Professor Walker have actually said, rather than all the reports in the tabloids suggesting they want a sugar tax, is that this might be needed if the industry doesn't really step up its reformulation efforts. But that is what they are calling for primarily and on that we agree."
At a conference organised by the British Nutrition Foundation on Monday, several scientists warned that a sugar tax risked a repeat of the "fiasco" in Denmark, where a similar scheme was abandoned in 2012, and also said it would hit the poor.
Professor Richard Tiffin, director at the Centre for Food Security, University of Reading, said a 20% tax on sugary drinks, as called for by the groups including the Academy of Royal Medical Colleges, would have only a "marginal" impact on obesity levels and hit those least able to pay.