On the surface the latest survey results vindicate Adjudicator Christine Tacon's approach, but there are cracks in her case
This year was already set to be a pivotal one for the future of the Groceries Supply Code of Practice (GSCOP), even before supermarket bosses tried to have the code suspended as the coronavirus outbreak sparked a spate of short-notice delistings.

With Adjudicator Christine Tacon due to step down in June - having announced her seventh and final year in charge would see a controversial move towards a system based increasingly on retailer self-regulation - all eyes would have been on this year's performance league table.

Then retailers moved into a self-confessed "war footing", Morrisons boss David Potts compared GSCOP to "being handcuffed to a donkey", and the BRC claimed it was a barrier to feeding the nation. So Tacon extended her stay for six months while fighting off efforts for its suspension.

So, what does her final report say about supermarkets' behaviour, and what's next?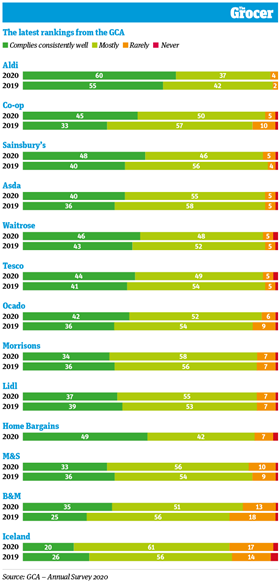 The results of this year's YouGov survey, claims Tacon, show retail behaviour towards suppliers at "an all-time high".

Last week, in an initial finding, the adjudicator revealed among 1,500 direct suppliers who responded to the survey, conducted from 4 February to 31 March, just over a third (36%) had experienced a Code-related issue with one of the 13 retailers covered in the past 12 months.

That was not only down from 41% in 2019 but a massive fall from 79% in 2014.

Just 13% of suppliers said they had suffered from the most common complaint, retailer forecasting, vs 33% in 2014.

Tacon saluted what she called "a very high level of Code-compliant behaviour" across the board.

Aldi topped the table, for the seventh year in a row, with a further improvement, to 97%, in compliance.

Yet it was the performance of the Co-op that is bound to give Tacon most satisfaction.

Ranked joint second in the table at 95%, she described its behaviour as "a massive improvement" from its 10th place in 2019, after a GCA investigation found it had breached the Code on two counts due to delisting and varying supply infringements.

Although it was the investigation of Tesco, following its 2014 financial scandal, that attracted the most attention, Tacon has based her entire move towards self-regulation on the 2018 Co-op investigation. The retailer was spared a fine over breaches, but ordered to make significant changes to its governance, systems and processes.

These are the changes Tacon has been using as a model towards imbedding a new light-touch regulatory system, before she hands over to her as-yet-unnamed successor.

In the past, Tacon has hinted this could be a very different type of operator - a retired judge, or similar, who may take a more orthodox approach to the Code.

"I believe I have taken things as far as I can," Tacon tells The Grocer. But she adds she would have considered remaining for longer had Amazon and Boots been added to the list of retailers - something considered but turned down by the CMA.
Lack of training
As it is, the adjudicator reveals her staff has been "downsized" in recent weeks because "there isn't enough to do".

That troubles critics who fear coronavirus may be storing up problems for suppliers. Critics also point out not all in the survey is good news.

For starters, a lack of training continues to be a major issue.

While the overall figure of suppliers to have had GSCOP training is up to 47%, from 44% last year, more than a third of large suppliers and nearly two thirds of small suppliers say they have not had training in the Code.

Alarmingly, this week's survey also shows a growing reluctance among suppliers to report issues, with fear over reprisals the dominating factor.

According to the survey, nearly 60% of suppliers say they are either not sure or would definitely not report a GSCOP-related issue. Of those, nearly half say they would be too frightened of repercussions. Just 45% of suppliers said they would raise an issue, compared to 52% in 2017.
"The findings suggest that a climate of fear between ­suppliers and retailers is still very prevalent," says John Noble, director of the British Brands Group.

Meanwhile, the Code itself has come under attack from supermarkets. Earlier this month Tacon revealed the BRC had called on the government to suspend GSCOP. The BRC told The Grocer it feared rules governing the delisting of products at short notice could prevent supermarkets from supplying people in need during the coronavirus crisis.

Tacon has been keen to stress to ministers GSCOP has the flexibility to allow retailers and suppliers to thrash out temporary arrangements for what constitutes reasonable notice, without suspending it altogether.

Noble believes the survey results have proved collaboration between retailers and suppliers can win the day, despite the target on Tacon's back.

"I think the survey does include some great news for the adjudicator," he says. "The fact that almost 50% of suppliers say they haven't had any issue at all is a great result.

"But there are still worrying results. The fact that one in seven suppliers say they have no understanding of the adjudicator doesn't say much for the level of supplier engagement."

Ged Futter, founder of The Retail Mind, claims not only has coronavirus heaped more pressure on suppliers, but this week's survey shows alarming signs of movement in the wrong direction.

"Whilst the GCA needs to be commended for stopping the Wild West antics of the retailers, it's absolutely clear that levels of compliance in the retailers have gone backwards over the past three years," he says.

"It is also clear that the behaviour of Morrisons, M&S and Iceland has gone backwards on all measures over the past three years. With regards to overall compliance, which is the GCA's measure of success, M&S, Iceland and Sainsbury's are now worse than they were in 2017."

Retired judge or not, the new person at the helm, when they are finally announced, has both a hard act to follow and still much work to do.


Ian covers Tesco, Asda and Morrisons among the major retailers. He's also our go-to guy for all issues related to health, high street and public affairs.