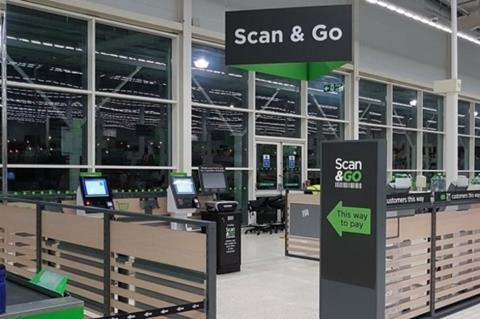 Asda colleagues will be placed at the front of stores to offer hand sanitiser to customers

Tesco is introducing separate store entrances and exits where possible, along with directional floor markings and new signage
Asda and Tesco have become the latest supermarket giants to enforce limits on the number of customers in store, as retailers step up a series of emergency measures to protect staff and slow down the spread of coronavirus.
Messages from Asda CEO Roger Burnley and Tesco CEO Dave Lewis said they were significantly increasing restrictions to protect customers.

Asda said it would be placing colleagues at the front of stores across the UK who would be instructed to "limit the number of customers in its stores, when necessary" and apply hand sanitiser for customers when entering and departing if needed.

Asda said the move would "ensure social distancing guidelines can be maintained". Its move comes amid increasing pressure for stores to go even further to protect staff and shoppers from the outbreak, following scenes of crowded stores in the past two weeks as shoppers' stockpiled for lockdown.
As well as protecting staff and shoppers, industry sources say the latest measures could help limit the impact of panic buying on stores' stock levels.

All stores have so far been using their own staff to enforce the limits.

Yesterday Waitrose and M&S started limiting the number of customers allowed in at one time, amid fears stores could spread the disease in their efforts to keep the nation fed. It is widely expected other retailers will take similar steps to limit numbers as they step up a series of social distancing measures.
Asda's latest moves include, like other retailers, asking customers to limit any contact to when they purchase, and to use cashless payment methods wherever possible. Like several others Asda is also installing Perspex screens at its checkouts, pharmacies and service desks.

It is closing every second scan & go checkout to help maintain distance.

"It has never been more important for us to work together to keep our distance ," said Asda CEO Roger Burnley in a message to customers.

"We're working hard to protect you and our colleagues," he added.
In a letter to customers, Tesco CEO Lewis said: "Where necessary, we will limit the flow of people coming into our stores to ensure they don't get too congested."
Lewis said Tesco was also introducing separate store entrances and exits where possible, along with directional floor markings and new signage to control flow.
M&S said yesterday that when customers arrived at branches they would be met by "greeters" who would manage the number in the store at any one time.
A spokesman said: "M&S is actively managing the number of customers who can come into store at any one time. Extra colleagues (redeployed from clothing & home) will be on hand to support limiting customer numbers entering the store."

As supermarkets across the board take action, retailers including Lidl, Morrisons, Aldi, Iceland and Sainsbury's have all installed protective screens.