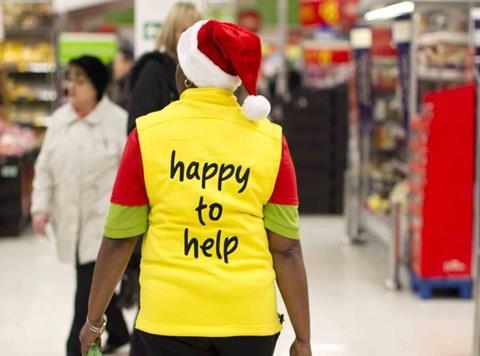 Nobody can say under-pressure Asda boss Andy Clarke has been anything but upfront about the extent of the problems facing the Walmart-owned giant.
Only last week he predicted a year of "intense pressure" for supermarkets and admitted Asda had been too slow to try to counter the threat posed by the discounters as he ominously predicted "turbulent" times ahead.
Likewise, talk to virtually any analyst and Asda is widely expected to be bottom of the table when it comes to the top supermarkets' performance over Christmas when its parent reports results next month. Moreover, most agree it needs to make fundamental changes that will require some very painful decisions for its workforce.
Yet many at Asda House had no idea quite how soon – and how hard – the turbulence would hit, and if he is to successfully steer the retailer through tough times, Clarke now has to be careful he does not lose the support of his remaining staff in the process.
"Brutal" is the word repeatedly used by sources to describe the events in Leeds that started on Friday and continued yesterday – a day that ended with many lifelong Asda employees drowning their sorrows in the pub, wondering where their next job would be coming from.
According to one source, some staff were "frogmarched" out of the building, having had no idea what was to come. Another described the events simply as a "bloodbath".
Yet aside from the obvious human cost, there is a large degree of common sense behind many of the changes being made by Clarke under his Project Renewal strategy. Once again, Asda is following in the footsteps of Tesco, whose own boss, Dave Lewis, was basking in the glow of an apparent revival last week, while Clarke made his doom-laden predictions.
Only a year ago it was Lewis who under the cosh as he announced a huge upheaval in the organisation, which included the closure of 43 stores, massive job cuts at head office, the slashing of deputy manager and team leader positions at stores across the country, and plans to scrap the company's industry-leading pension scheme.
As The Grocer said last week, it is far too soon to suggest Lewis has successfully piloted Tesco through the storm. However, there are many signs that he and new UK CEO Matt Davies have handled the process in a way that has avoided the crushing blow to staff morale that could have derailed his turnaround process.
Tesco was painstaking in the way it consulted staff on the cuts and the changes to pensions, and whilst no doubt many remained unhappy and many lost their jobs, there was no full-scale revolt.
This week Asda is beginning a similar process and the signs, initially at least, are not so promising. Up to 200 staff are thought to have left yesterday alone – and there is nothing like the sight of long-term colleagues leaving to damage that common desire for the company cause.
The last thing Asda needs is to be seen as insensitive as it makes the painful decisions necessary to slash its spending and reinvest in its core store strategy and lower prices.
So what will staff make of another ongoing process, this time over its plans to scrap all canteen facilities, including vending machines and even free cups of tea and coffee, as revealed by The Grocer today?
The GMB union has launched a petition against the plans, which it rightly claims are a blow for "hard-working, dedicated colleagues within Asda".
It's not the first time Asda has gone down this path. Last year it downgraded staff canteens at 200 stores by bringing in vending machines, but if the new plans go ahead, those will disappear altogether.
Are the savings to a company owned by the biggest retailer in the world really worth the cost in lost goodwill among staff? After all, these are the people who, ultimately, just as much as those cheaper prices, will decide whether Asda wins back the support of its customers.