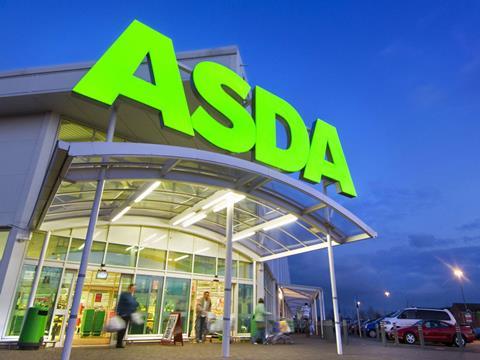 Asda has recorded a tenth consecutive quarter of negative LFL growth, with results from parent company Walmart revealing its UK sales were down 2.9% year on year for the fourth quarter to 31 December.
Asda's performance contrasted with the other 10 international markets in the Walmart empire which had positive LFLs and with the recent performance of its supermarket rivals in the UK who all reported strong results over Christmas.
However, the figures were an improvement on recent quarters, with Asda sales falling by 5.8% year on year in the third quarter, and by a thumping 7.5% in the results before that, its worst quarterly performance on record.
The results mean Asda's sales fell by 5.7% across the whole of 2016 and Walmart president and CEO Doug McMillon, said the struggling supermarket had "a lot of work to do".
"In the UK, we faced some challenges this past year and we're addressing this with urgency. I'm glad comp store sales improved during the fourth quarter, but we have a lot of work to do," he explained.
Walmart chief financial officer Brett Biggs added: "Turning to the UK, net sales declined 0.6% and comp sales declined 2.9% in the quarter. We have a lot of work to do in this market, but we're encouraged by some early signs of traction with improvements in the customer value proposition."
Asda president and CEO Sean Clarke said: "We are encouraged by the early signs of our customers responding positively to the hard work that's been happening in our stores throughout 2016, which saw us welcome over 140,000 customers back to Asda this last quarter.
"We are putting customers first and have sharpened our prices, improved our ranges and availability, all with friendly service. While we have a lot to do, it is great to see our colleagues, who really make the difference, engaged in this change in doing what's right for customers."
Walmart said today that LFL sales remained "under pressure" in the UK but that the turnaround programme under Clarke was beginning to have an impact.
"We are encouraged by early signs of improvement in the customer value proposition," said Walmart in a statement.
"We continue to simplify the offer, improve product availability, and make strategic investments in service and price. The cost analytics program continued to be successful delivering savings above expectations for the year."
The company also said the range review being carried out under Clarke had picked up speed with managed inventory levels declining at a faster rate than sales in the quarter.