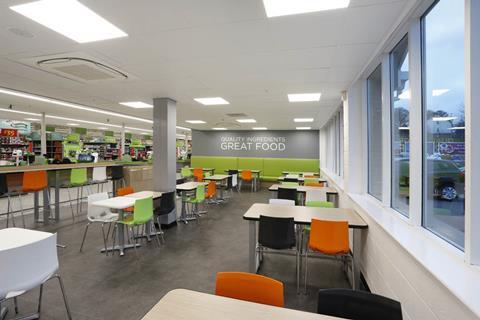 Retail leaders have welcomed a backtrack by the Scottish government over plans to extend use of Covid passports.
First minister Nicola Sturgeon announced yesterday that the vaccine certification system would not, as had been expected, be widened from nightclubs and large event venues to locations such as coffee shops, quick service restaurants and cafés located inside shops.
The Grocer revealed earlier this month that ministers had been consulting on plans for the scheme to extend to supermarket cafés, as well as high street stores.
However, yesterday Sturgeon revealed she would not be going ahead with the plans, which would have come in from December 6, amid signs of a stabilising Covid infection rate and concerns from business leaders about a potentially disastrous impact on Christmas trading.
The Scottish Retail Consortium, which submitted a response to the government's evidence paper on Covid passports late last week, praised the decision.
"After last year's late lockdowns, retailers will have been nervously holding their breath ahead of today's announcement; and will be delighted to see a reprieve from further restrictions, "said SRC director David Lonsdale.
"Credit is due to Scottish ministers for listening to the representations put forward by the industry and concluding it would not be proportionate to proceed with an extension of the Covid vaccine certification scheme to coffee shops, quick service restaurants and retailers' cafés.
"Scotland's retailers can now hopefully focus on delivering for customers as we enter the biggest trading month of the year. That's crucial as strong sales in November and December can generate the revenues which will tide stores through the leaner post-Christmas winter period."
Meanwhile, retail leaders have urged shoppers not be be deterred from their Christmas shop, after new government advice urged them to take a Covid-19 test before spending time in "crowded and enclosed spaces" this winter.
The Cabinet Office website has updated its guidance on testing, with the focus on so called "high-risk" areas, updating previous more general advice that asked people to take two lateral flow tests a week, especially if they had school-age children or were meeting clinically vulnerable people.
The new advice says: "You are at higher risk of catching or passing on Covid-19 in crowded and enclosed spaces, where there are more people who might be infectious and where there is limited fresh air."
One retailer source told The Grocer reports suggesting supermarkets were "high risk" were "misleading".
"It is grossly misleading to suggest that the government has singled out supermarkets as places where people should be thinking abut avoiding, and is simply twisting the general advice that the government has put out about Covid precautions."