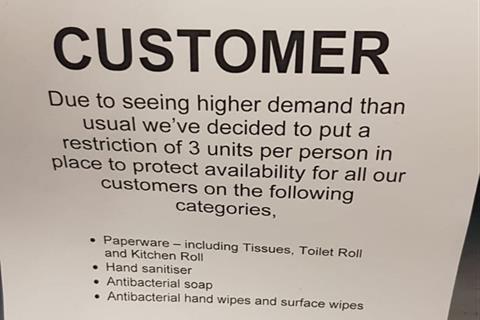 New emergency restrictions on food are to be brought out across most of the major supermarkets, after panic buying led to the highest sales volumes ever recorded over the weekend, The Grocer has learned.

It is understood other supermarkets are set to follow Aldi's lead in introducing a four-product limit across all items in store, in a bid to protect the supply chain.

The proposals were discussed in emergency planning talks between retail bosses and environment secretary George Eustice today.

Announcing its restrictions on Twitter on Saturday, Aldi said: "As we have seen an unprecedented demand across our range, we will be limiting customer purchases to four units on all products to ensure all of our customers have an opportunity to purchase them. We thank you for your patience at this time."

The meeting is also understood to have heard of concerns among staff about working in an atmosphere of panic, with some facing abuse from customers.

A source said: "Panic buying means most mults are going to impose item limits starting with four items per SKU."

They added: "Supermarket workers don't want to go to work anymore due to the awful atmosphere."

Another source added: "Supermarkets were incredibly busy over the weekend. This has been an unprecedented situation.

"Supermarkets are continuing to work with the government and will be talking constantly as this progresses to take the right action to help customers."

It has emerged as another concern for retailers who are already fearing they will face a staffing crisis when the disease peaks in the next few weeks.

Ministers have been told by retailers that they expect it will be four to six weeks before there are shortages of fresh food.