As more shoppers turn to their smartphones, tablets or PCs to do their weekly grocery shop, a race is under way to build additional dark store capacity to fulfil the boom in orders. The battleground for this war is South East England and particularly London where stores are busiest, drop densities are highest and warehousing space is at a premium.
Tesco opened its sixth dark store, in Erith, near Dartford, in October; Waitrose announced in September it would open a second e-commerce centre, in Coulsdon this autumn; and Sainsbury's announced in October that it planned to open its first dedicated online fulfilment centre in Bromley-by-Bow in the next few years. Now everyone is engaged in the online battle - and that means the dark store wars are set to escalate.
All the major supermarkets, excluding Morrisons (which uses Ocado), are likely to open at least one dark store this year in the South East, says property consultancy Jones Lang LaSalle. They currently occupy about 1.8 million sq ft of warehousing dedicated to fulfilling online grocery orders, it estimates. That will double this year and eventually it will treble.
London's calling: dark store locations
● Tesco: Croydon (South London), Aylesford (Kent), Greenford (West London), Enfield (Hertfordshire), Crawley (West Sussex), Erith (South East London), Didcot (Oxfordshire). Also thought to be looking at SW London
● Asda: Leeds (Yorkshire), Enfield (Hertfordshire), Nottingham (Nottinghamshire). Also looking in Hayes and Dartford
● Sainsbury's: Bromley-by-Bow (East London)
● Morrisons: Dordon (Warwickshire)
● Waitrose: Acton (West London - autumn 2014), Coulsdon (South London). Also looking at Edmonton
● Ocado: CFCs at Hatfield and Dordon. Looking for a third hub around London, Kent or Sussex as well as somewhere either in the North West or Yorkshire
JLL's projections are based on the fact that online grocery shopping is set to reach £14.6bn in 2018, an increase from about 4% of the total UK grocery market in 2013 to more than 7%, according to one estimate.
That may be conservative. Verdict estimates 15% of UK grocery sales, worth £900m, were generated online in the four days before Christmas Eve 2013, and predicts total online grocery sales will reach 6% this year.
Nigel Godfrey, senior UK operations vice president at Gazeley, which has developed logistics facilities for retailers including a dark store for Tesco, thinks a "structural shift" is under way. "Over the next five years I expect there to be significant change in the fundamentals of grocery retailing. Demand from consumers for immediate satisfaction of their needs is percolating down to the grocery sector. I can see it is going to grow at an unprecedented rate."
Dark stores offer several advantages, he says. "It has been relatively easy to secure consent for B8 planning, whereas if you're trying to secure consent for A1 open retail use it may be very difficult indeed. For a 150,000 sq ft store, you can get consent in three months. They are also cheaper to operate - the typical rent in London for a dark store might be £9 a foot compared with perhaps three times more for a retail store."
Not that it's going to be cheap - or easy - to acquire new sites. "There will be continuing and escalating demand for this type of product and there is a shortage of suitable sites in the conurbations," he notes. "All the activity seems to have been focused on London. I would say the Tesco model, particularly serving geographic quadrants around London, is probably going to be copied by others. Locations on the M25 that can be readily serviced from a distribution centre to a dark store will be in greatest demand."
Important though geography is, the long-term success of dark store and online fulfilment strategies will not solely be defined by where retailers secure their sites. It will also come down to logistical details, says Richard Evans, JLL's director for industrial & logistics.
"Execution is the be-all-and-end-all - the ability to successfully combine software development, well-located property and logistics together with serving customers reliably and keeping them informed. It will also be about the ability to change an order simply or add or subtract from last week's order more effectively. Shrinking the delivery window from afternoon to two-hour to half-hour slots and the accuracy of picking and quality of produce are also key."
Click & collect
As retailers become more omni-channel, their online offer will evolve - placing even more demands on their online fulfilment infrastructure. Take Asda, which plans to more than triple its click & collect locations to over 1,000 within five years and already offers collection from its petrol station lockers, stores and from vans at transport nodes.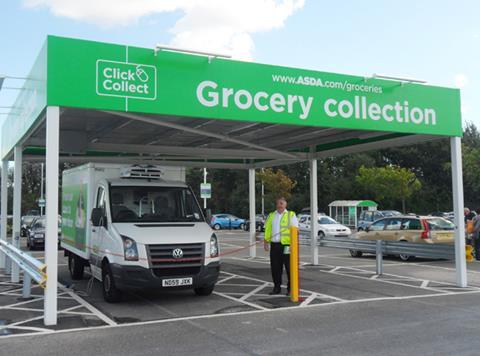 While this points to the development of more dark stores, experts believe that in-store picking will still be used widely. Dark stores are relatively costly to build owing to their bespoke and usually highly automated nature, points out Godfrey. "It might cost an operator something like £15m to £20m to fit out, compared with £5m to £6m for construction."
The density, size and value of markets beyond the South East is likely to limit demand to major conurbations such as Leeds, Birmingham and Manchester, adds Martin Summerscales, head of retail consultancy at CBRE. "Store pick is going to be very important outside London and the South East. At the rate online is growing, you need both."
The exception, of course, is Ocado, which aspires to national coverage via its centralised hub-and-spoke system of large central fulfilment centres serving satellite depots. "Dark stores will only serve high-density areas, whereas the hub and spoke system enables you to put the stems wherever you want," says Summerscales, adding that traditional grocers may try to replicate the 'spoke' part of Ocado's model in some areas. "We might see mini spokes, small warehouses, that can be used to target where grocers need coverage."
The challenge for Ocado is siting the central facilities, says Evans. "If Ocado can find the right sites to build their hubs, they are well placed to grow. I think they will end up with five or six hub units in the UK in the next five years and another 10 to 20 of the spoke units of 10,000 to 20,000 sq ft."
Ocado viability
However, Clive Black, head of research at Shore Capital stockbrokers, continues to question the long-term viability of the Ocado model. "To grow, it has to put down additional CFCs and will be restricted in its capacity to do so. There's a question about how long Waitrose will stay with them beyond 2017 and I question the long-term viability of the Morrisons model," he says.
"If Ocado put a second CFC in South London, I could see some sense in that because that's where population density is. For Ocado to move north shows a lack of confidence and capability. Others are gaining more market share than Ocado. I don't expect Ocado-style CFCs to be the dominant feature of retail. Store-based fulfilment alongside dark stores will be the prime way to serve online orders."
Summerscales agrees there is plenty of scope for the established grocers to continue to fulfil a large proportion of orders from existing stores. "Retailers don't want to close in-store operations. They have already invested in that infrastructure. In many cases they will look to sweat existing stores," he says, predicting that they will also look to adapt large hypermarkets to also serve as local RDCs. "We are already seeing large ones repurposed with 40 to 50-strong van fleets at large Tescos and up to 30 in some large Sainbury's."
Whether using dark stores, in-store picking, Ocado's model or all three, retailers need to be ready for a paradigm shift in shopping behaviour. "Up to now, online fulfilment has been looked at as a nice add-on and 90% of sales still take place in store, but if market projections are correct it will be 20% online by 2020," says Summerscales. "If that's even close to being correct, online fulfilment could make or break some retailers."
And the winners may be decided very soon, says Godfrey. "How fast they can secure and open units on the edge of conurbations will be key to who succeeds. As a developer, we get an increasing requirement for speed. We recently delivered a dark store to one occupier in nine weeks. They used to take a year to put up. A year is a long time now, five years can be a lifetime. Fortune favours the brave and those getting off the mark quickest seem to be the winners."