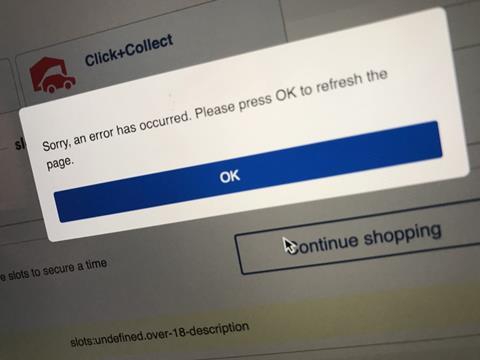 Supermarkets are urging customers to "shop as normal" after new lockdown measures were announced last night, as websites struggled to cope with demand.
Aldi CEO Giles Hurley wrote to customers late last night to reassure them that the discounter's stores were "fully stocked" with "good availability" and "regular deliveries, at least once a day".
"There is no need to buy more than normal so please shop considerately," he wrote.
A Sainsbury's spokeswoman said the supermarket had "good availability and we encourage customers to shop as normal".
Retailers are hoping to avoid the spate of panic buying observed at the start of the pandemic early last year. An Efra Committee report, published in July, found store visits and basket size surged in the weeks leading up to the first lockdown with "panic buyers stripping shelves of all available products".
Last night, in the hours following the prime minister's announcement of a new national lockdown, supermarket websites struggled under the strain of demand.
Shoppers reported issues with the sites of all the majors as they rushed to book delivery slots.
Sainsbury's told users its online operation was "experiencing some technical issues" which it was working to resolve. Tesco told users struggling to order through its website to try its app, use an alternative device or browser, or use mobile data instead of wi-fi, explaining it was having "some issues" with the site "due to traffic".
Morrisons advised customers to log out of their accounts, clear their internet history, use Google Chrome and try again. Asda advised similarly after it "ran into some site issues".
Asda, Morrisons and Ocado introduced virtual queueing systems to help manage the demand, which have now been removed.
The demand for online has been exacerbated by the requirement that vulnerable individuals shield again, meaning they must avoid visiting physical stores and use online services instead.
E-commerce expert Rebecca Crook, chief growth officer at consultancy Somo, said the failure of supermarket websites was "unacceptable".
"During the first lockdown, customers were more understanding – albeit still a little frustrated – when websites and apps struggled with the increased traffic. But almost a year on, there really is no excuse now," she said.
"While I'm sure many retailers have improved the performance and load capacity of their sites, they haven't fully scaled to the capacity they need to in order to reach demands like we experienced last night. Cost will no doubt be one of the core reasons for this so they will balance that with providing virtual queues and not providing a great online customer experience," Crook added.
The cost of losing customers was, however, a "greater one to bear than the cost of funding an online solution that could fully cope with the demand" she said.