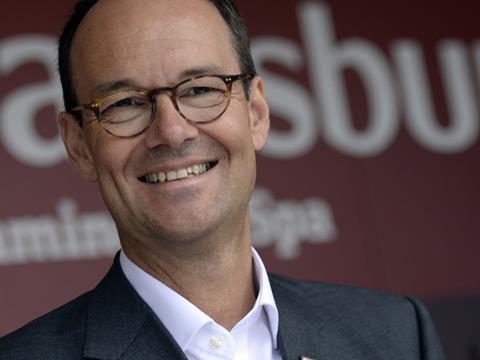 Sainsbury's chief executive Mike Coupe has been forced to fly to the Egyptian city of Giza after being sentenced to two years in jail for criminal breach of trust.
The supermarket giant said today that Coupe, who vehemently denies the charges against him, had been left with no option but to attend an appeal hearing on Sunday, or face the threat of extradition if he travelled to any country with a treaty with the Egyptian courts.
Failure to have attended the hearing, following proceedings last September - which Coupe is said by insiders at the company to have been "completely unaware of" – would have been seen as a "confirmation of his conviction", Sainsbury's said.
Coupe is said to have flown to Giza and back to the UK on the same day after submitting his appeal and was accompanied by Sainsbury's executives and security staff as well as the British ambassador in Egypt.
The case, which has left the supermarket in a state of shock, dates back nearly 15 years to the failure of a Sainsbury's joint venture in Egypt after it bought an 80 % stake in Egyptian Distribution Group (Edge.)
After racking up £10m of operating losses in 18 months and being hit by a boycott of its stores in Cairo and Giza, Sainsbury's pulled out and sold its shares in Edge to founder Amr el-Nasharty, taking a £111m charge to cover its losses.
The company has been hit by a string of what it claims are "false" compensation claims from el-Nasharty, who claims he was misled over the extent of the companies liabilities.
El-Nasharty fled Egypt after being declared bankrupt, spending almost a decade in London before returning to his home country after the uprising in the country
In a series of extraordinary claims, el-Nasharty has accused Coupe and his lawyers of attempting to seize cheques held in a trust in Giza which related to Edge's bankruptcy.
However, Sainsbury's today said that, at the time of the alleged incident, Coupe was just two weeks into his job after taking over from Justin King.
"Sources at ITV have confirmed that he was actually having lunch with them at the time he was supposed to be doing this," said an insider. "These claims are clearly ridiculous.
"Mike was completely unaware of the hearing last September," added the source, with Coupe found automatically guilty in absentia and sentenced to two years in jail without bail. His appeal will be heard on May 3 and it is understood that Coupe does not plan to fly again to Egypt to attend court.
The source added: "Mike had no option but to attend the court on Sunday or it would have been a confirmation of the conviction." However, our source denied reports that Coupe could still face arrest and extradition to Egypt, adding: "Reports that he is not free to travel are completely untrue."
A Sainsbury's spokeswoman said: "We strongly refute the legal case in Egypt brought against our chief executive Mike Coupe.
"This relates to a historic commercial dispute in which Mr Coupe had no involvement. Mike was not even employed by Sainsbury's at the time of the original business deal in 2001 which gave rise to these legal proceedings and has never met the complainant Mr El Nasharty.
"Mr El Nasharty has consistently made false claims against Sainsbury's and individuals within the business over the years, all of which have been unsuccessful. When Mr El Nasharty bought the Egyptian business back from us in 2001, he paid us with cheques that bounced.
"Mr El Nasharty is now claiming that Mike Coupe was in Egypt in July 2014 and tried to seize these cheques. This is clearly ridiculous. Mike Coupe was in London carrying out his normal duties that day. Mike Coupe was tried in absentia by an Egyptian court, without prior notice that he needed to attend and we are contesting these groundless allegations."