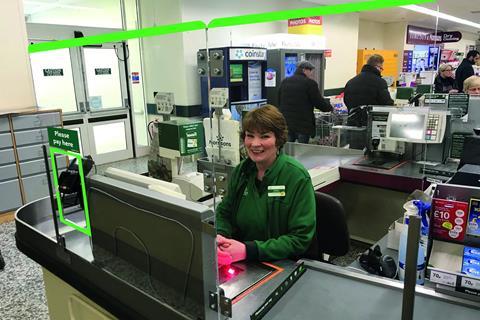 Morrisons will bring in perspex screens to shield checkout operators

Aldi will begin installing clear screens at till points from today

Usdaw is calling on retailers introduce limits on the number of customers in store at one time
Supermarkets are rolling out a series of new measures to try to protect workers from the coronavirus.

Morrisons has announced plans to bring in new perspex screens, which will shield checkout operators, while other supermarkets are also looking at how they step up protection. Morrisons said it aimed to have 1.5 metre-wide screens at every checkout in all stores by the end of the week.
"We want to do our bit to help customers and colleagues from being affected and to help everyone observe social distancing at our checkouts," said Morrisons CEO David Potts.
"This will help us to continue to play our full part in feeding the nation."
Aldi announced a similar move, saying it would begin installing clear screens at all of its 7,000 till points from today (23 March). A spokesman said it wanted to "ensure the necessary level of support and protection is available to its thousands of colleagues and millions of customers".
The discounter is also advising staff and customers to observe government advice on social distancing in stores.
Asda, meanwhile, has urged customers to use cashless payments to limit physical contact with staff.

The moves come amid fears that a major impact on staff sickness is an even bigger threat to the food industry than supply shortages.

Morrisons' move was welcomed by shopworkers trade union Usdaw, which said it had "increasing concerns" about the welfare of staff who were being potentially exposed to the virus, while millions of Brits were urged to stay at home.

It called on other supermarkets to step up efforts, saying they had a "duty of care" to protect staff.

Usdaw is calling on retailers to bring in new limits on the number of customers in store at any one time, increase security presence and provide perspex shields around checkouts.
Read more
"We have increasing concerns about the safety and welfare of staff in stores," said Usdaw general secretary Paddy Lillis. "The scenes in stores over the weekend and behaviour of some customers mean that supermarkets need to go further to protect the health, safety and welfare of shopworkers.

"We are calling on retailers to continue to improve their stores and procedures to help protect staff. We also call on customers to stay calm, respect shopworkers and practice the necessary hygiene measures to help limit the spread of the virus. We all have to work together to get through this crisis."

Morrisons said it was also asking customers at the checkout to pay by card or smartphone to reduce cash handling and was issuing hand sanitiser to checkouts at all stores. It had ordered a "significant" increase in cleaning on places colleagues and customers touch, it added.

Asda said it had taken new measures to help limit the spread of bacteria, including equipping stores with additional cleaning materials. It had "refocused our cleaners who are cleaning on a more frequent schedule in the high traffic areas of our stores" it added.

"We are also topping up the cleaning stations at the front of our stores more frequently, making it easier to sanitise trolleys and baskets before and after use.

"We would urge our customers to use cashless payment options to reduce contact with our colleagues and help prevent further spread of the virus."

Tesco said it was also looking at the possibility of bringing in new measures

It introduced "distancing" measures around checkouts last week and queuing barriers in larger stores from Sunday. It said it would review what further measures needed to be taken