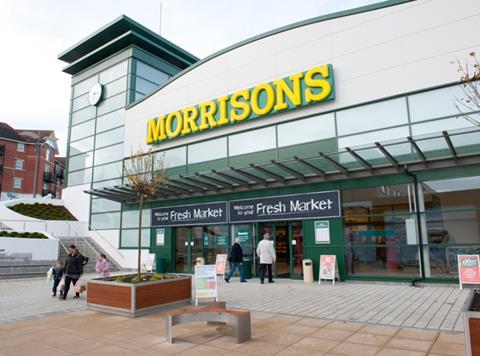 Morrisons shares jumped 5% in early trading today on reports that the founding family has been sounding out private equity firms on the possibility of taking the supermarket private.
Firms including CVC, Carlyle and Apax have been approached to gauge their interest in a joint bid which would value Morrisons at around £7bn, according to Bloomberg. The current market value of the supermarket is £5.7bn.
However, the report said the family, which owns about 10% of Morrisons shares, has so far been unable to find a partner. The supermarket's weakening trading performance was cited as a stumbling block.
In January, Morrisons reported a 5.6% drop in Christmas sales and yesterday Kantar Worldpanel data indicated that its sales had fallen 2.5% in the three months to 2 February.
Shore Capital analyst Clive Black said the news was not entirely unexpected.
"Given Morrisons' trading weakness and relatively low valuation, such headlines and potential initiatives are to be expected to some degree at this time," he said.
The analyst, who is a long-term sceptic of the Ocado business model, said the rumours could spell bad news for the online grocer, which signed a lucrative deal last year to help launch and run Morrisons online business.
"We would harbour mild concerns if we were Ocado," he said. "While it would not be the cheapest thing to do, any new owners may deem the best thing to do if there was change would be to re-negotiate or even tear up the 25-year contract online."
Morrisons shares jumped to 245.8p first thing on Wednesday. Shares in Tesco, Sainsbury's and Ocado were also up.