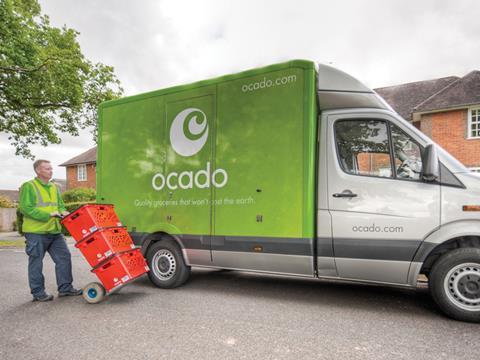 Ocado shares took a hit on Thursday as sales growth slowed and order sizes shrank in the fourth quarter.

Gross retail sales grew by 13.1% to £351.8m in the 16 weeks to 27 November, but this was down from 13.6% in the previous quarter. The contribution from Morrisons.com, which has cosied up to Ocado rival Amazon, bumped growth to 14.5%, compared with 15.4% in the third quarter. Average weekly orders continued to rise - up 17.6% to 241,000 - but the basket size fell another 2.9% to £105.61 as deflation dragged down prices. And there was, as expected, still no sight of the elusive overseas deal Ocado has been promising.

The share price slumped 4.1% to 266.4p when the markets opened, before recovering slightly on Thursday lunchtime to -3.9%. Neil Wilson, senior market analyst at ETX Capital, said the declining average basket size might have investors worried. "In September, we noted that Ocado appeared to have reached its peak in terms of basket size, with average orders down to £107.94 from £111.75. That has now fallen again and it's hard to see it rising.

"Supermarkets are under severe pressure to keep prices low which, given rising food price inflation created by the weak pound, will probably put further pressure on margins."

Analysts at Numis and Goldman Sachs remained more upbeat, highlighting that sales growth was way above the grocery market average of 0.8% over the 12 weeks to 6 November.

Hilton Food Group recorded a healthy 4.3% hike in shares to 612p after it announced plans to expand its packing capability in Australia. "This deal underpins long-term growth potential for Hilton and should ensure the company delivers 50% earnings growth over the next six years without further contract wins," Charles Hall at Peel Hunt said.

Real Good Food shares crashed 9.3% to 34p on Monday after volatile commodity pricing and adverse currency movements saw losses deepen to £200k in the six months to 30 September. This was despite sales growth of 5% to £49m.