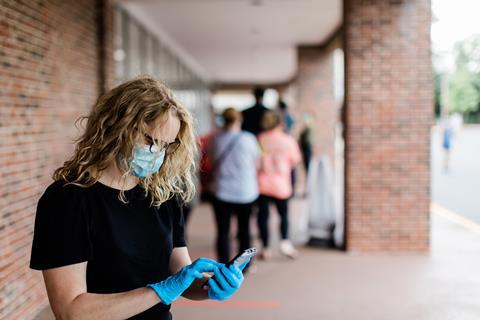 Britons have earned a reputation for how seriously we take queueing. Sure, we all huff and puff whenever we find ourselves in an inconveniently long line, but waiting your turn is sacrosanct and in recent times we've found ourselves in more queues for more things more often. Supermarkets adopted a process akin to nightclubs of 'one in, one out' and we've obediently snaked around, spilling into the car park.
Sainsbury's announced last week that it is hoping to get a head start on addressing some of the inevitable grievances that will come with queuing during the colder months. The retailer is trialling a virtual queueing system across five stores where shoppers can secure their place on an app and then wait in a car or café before entering the store.
Not the first brand to utilise this technology – Asda announced its virtual queueing trial in May – Sainsbury's will be using Ufirst, which was originally developed to help manage queues at tourist attractions and is already being used by Ikea in France and McDonald's in Italy.
While this type of app would have been helpful three months ago, no doubt shoppers will still adopt it when it's rolled out in full. When we asked British consumers at the start of lockdown what digital tools they'd like to see, almost three quarters said they wanted real-time data on supermarket stock and queues to enter the store to help them plan better. One mobile developer from Kent went so far as to create his own app to address just this.
Digital tools like queueing apps can ultimately make the shopping experience more positive in terms of convenience, instilling trust, loyalty, safety – all key factors in the battle for market share. But they must look further on how they can use technology to continually address the customer experience in a proactive rather than reactive way. The app shouldn't just be restricted to queuing – it could provide so much more meaning to customers, driving footfall and loyalty.
For example, why not utilise the technology to show updates every time the store is cleaned, offering assurance? Or providing real-time stock takes so customers know whether to make the journey on that day? Even test and trace data that can notify if someone with the virus has been into the store and the efforts being made to keep others safe. Remind customers of your other initiatives that may drive them online, such as green or free delivery. Brands that invest in creating convenient shopping experiences and that connect the customer journey are those who do well. Just look at Amazon and the ease of service that disrupted retail in ways never seen before.
If high demand and queueing – both off and online – are part of the new normal, then it is crucial for retailers to address these grievances and take the appropriate steps to create a much fuller, more meaningful experience for shoppers. Retailers must connect the experience across the customer journey, forming one solution, if they want to truly succeed.