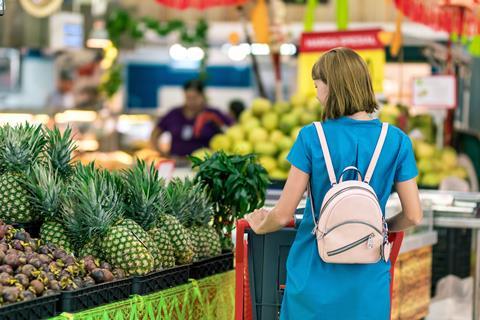 Supermarkets have still not returned the number or percentage of offers available to pre-lockdown levels.
Data compiled for The Grocer by Assosia shows the total number of multibuys and single-product discounts offered by the major mults is down 22% this month compared with the start of March. That's 8,617 fewer promotions than before lockdown measures hit the UK.
Though the proportion of products on promotion has increased from its lowest level in early April – when it fell to just 13% – retailers are also still several percentage points away from normal levels.
While the volume fall in promotions is partly due to a 7% decline in grocery ranges, latest data shows only 22% of products currently available are on promotion vs 26% in early March.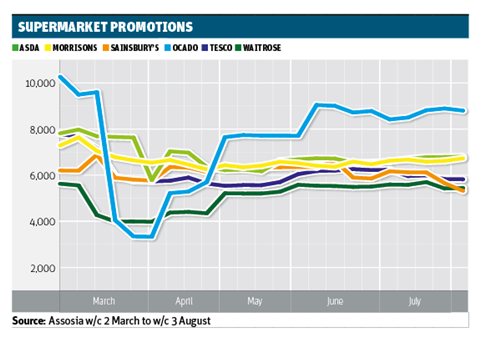 The biggest drop was at Tesco, where 41% fewer (a total of 2,787 promotions) can be found. In June, The Grocer revealed Tesco planned to stop normal promotional activity, with all promotions instead driven through its Clubcard loyalty card.
"At the beginning of lockdown we removed many promotions to ensure that all our customers had access to the essentials and our supply chain ran smoothly at a very busy time," a Tesco spokeswoman said.
"We have reintroduced many promotions and are also giving customers great value through everyday low prices, including our Aldi Price Match which has now been extended to more than 500 Tesco and branded products," she added.
Sainsbury's promotion count had dropped 27%, Asda's 21%, Ocado's 20%, Morrisons' 13% and Waitrose's 7%.
Asda said its total SKU count was greater than the data showed and its average promoted SKU count over the last four weeks was just 8% lower than the March average.
Like Tesco, Sainsbury's said its focus was on EDLP.
"This gives customers better value and removes the requirement for customers to buy more than they need," said a Sainsbury's spokeswoman. "Our Price Lock commitment – which is not measured as a promotion – offers customers lower prices on thousands of products which are held for at least eight weeks, forms part of this strategy."
The company said around 1,000 products were in Price Lock, a fifth more than the start of the year.
"In Q1 we lowered prices on many key products and our price position versus our competitors improved in the quarter," the spokeswoman added.
After Tesco, Ocado had the biggest fall in the actual count of promotions, at 2,081, although its total range is close to double the number of SKUs of its rivals.
"Like all supermarkets, we temporarily removed a number of promotions to encourage customers to shop in a responsible way during lockdown to protect the number of delivery slots we could offer," an Ocado spokeswoman said. "Since April, we have been increasing the number of promotions each month and are now very close to pre-Covid levels. Additionally, due to our extensive range, we have twice the number of products on promotion compared with other UK grocers."