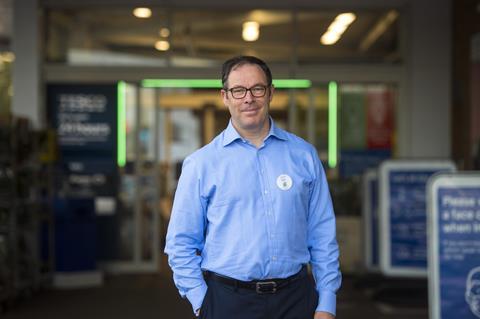 Tesco is planing a further round of range simplification, after launching a new supplier platform with the company's Dunnhumby arm to ramp up the use of data from its UK Clubcard holders.
CEO Ken Murphy said Tesco would look to provide "live feedback" from Tesco's 20 million-plus Clubcard holders to enable suppliers to "kill" products earlier if they did not land well with customers – but also enable them to decide where to invest and provide more marketing support when products were popular.
Tesco said it planned a new Reset, to simplify the business, following a series of widespread range reviews under predecessor Dave Lewis. The new reviews would make greater use of personalised data, with Murphy pledging to work "hand in glove" with Dunnhumby on the process.
To power it, the supermarket is launching a new platform called Tesco Media and Insight, which it said would help them and advertising agencies engage more effectively with customers.
"Data and customer insight are central to our success and we are looking to have a much closer relationship with Dunnhumby," the Tesco boss said at an event with suppliers this week.
"Our ambition is to work with you at a much earlier stage of your innovation cycles so you can make decisions on whether to kill off or move on with a project.
"We think by working really closely together we can reduce the time to market, we can reduce the cost to market, and we can reduce the number of products that go to market and ultimately fail."
Tesco is also looking at attracting much greater revenue from digital marketing with the new platform. It will offer five levels of ads, from one-to-one personalisation to broader mass reach campaigns.
Former boss Lewis had previously signalled Tesco intended to put Dunnhumby data and Clubcard more at the heart of the business, amid growing competition from the likes of Amazon Prime.
However, much of Tesco's focus, until now, has been on its Clubcard Prices initiatives as it takes the price war to Aldi.
"This is the time to reset and look at the whole suite of tools, technology and products," said Tesco chief customer officer Alessandra Bellini.
"Our new platform will bring together the wealth of customer knowledge we have, with the insights from Dunnhumby, and use it in a way that helps our brands to be more efficient and targeted, and ultimately to serve our customers better. We're excited to work with our suppliers and agencies to drive better engagement with customers and add value to their businesses."
Dan Hodgkiss, MD (Tesco UK), at Dunnhumby, said: "This new platform we've built with Tesco combines the scale of their customer base and the world-leading data science of Dunnhumby to create a powerful closed-loop system, bringing brands closer than ever to their customers to provide unparalleled opportunities."