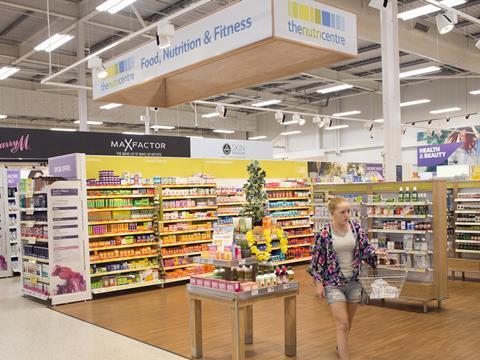 Tesco is to shut down its Nutricentre health food business, after deciding the loss-making operation no longer fits with its core store strategy.

The retailer began redundancy consultations with 137 staff this week, with the move set to see the closure of 12 standalone Nutricentre stores and 11 concessions in Tesco stores.

A further 300 unmanned Nutricentre fixtures in Tesco branches will also be removed.

The supermarket giant said it was now considering alternative uses for the space; it is also thought to be looking to sell off its standalone properties.

The decision marks a fall from grace for Nutricentre, in which Tesco acquired a majority share more than a decade ago and which was earmarked for rapid growth under former CEO Philip Clarke.

However, last year Nutricentre saw sales drop from £16.1m to £14m and losses widen from £2.2m to £8.3m, and Tesco axed its senior executive team, including managing director Amee Chande.

In February, Tesco scrapped almost 80% of the Nutricentre range, as it became the latest part of the business to undergo streamlining under Dave Lewis' Project Reset.

Nutricentre, which had boasted the largest range of health products in Europe, significantly reduced its range from 26,000 products to 6,000 as part of the move.

At the time Gervase Fay, head of product at Nutricentre, said it had spent six months on the reset, which would "focus on only selling brands and products that offer the nutritional integrity that the business can stand behind".

"We have taken the difficult decision to close our Nutricentre business," a Tesco spokesman said.

"We have learned a lot through Nutricentre, but we believe we can serve our customers better through our core UK business. Our priority now is to support affected colleagues."
The Nutricentre closure was announced as Sky News reported that Tesco is also preparing to cut its losses on its Giraffe restaurant chain, another venture widely seen as non-core to the operation.
Sky said private equity firms and other potential bidders were being "quietly sounded out" about their interest in buying Giraffe, which trades from approximately 60 sites across the UK.
"We don't comment on rumour and speculation," said a Tesco spokesman.