Boris Johnson assured the nation the food supply chain was secure and there was no need for shoppers to stockpile.
Yet there have been shocking scenes of empty shelves at supermarkets across the UK. And a source involved in crisis talks with the government says: "The situation got so bad over the weekend supermarket workers don't want to go to work anymore due to the awful atmosphere."
 So what is being done to meet the challenge? The Grocer looks at how retailers and suppliers and the government are responding to the coronavirus outbreak.
1. Supermarkets are limiting purchases across the board
It's not rationing, they argue. But from the early limits placed on dried pasta, tinned tomatoes, hand sanitisers and loo roll, supermarkets are extending this. Of the big four, Asda, Sainsbury's and Tesco have slapped a three-product maximum on any grocery product, this week, with some Tesco stores particularly badly hit reducing it to two.

One outlier is Morrisons, which has so far limited restrictions to only a handful of products, with CEO David Potts claiming limits could be interpreted as "a target as opposed to a cap" - though he admitted it might be forced to review this if the situation doesn't improve. Supermarket bosses also appealed directly to consumers to stop panic buying in a series of national newspaper ads but so far at least they have fallen on deaf ears.


2. Supermarkets are slashing ranges
Retailers are focusing on core lines. This is already leading to a massive change in everyday production and effectively a "coronavirus reset" of ranges.

Morrisons CEO David Potts says rationalisation will enable quicker replenishment of shelves as supermarkets adopt a "war footing". For example, a switch from 17 core bakery lines to just seven had already enabled production to rise from 850,000 loaves to 1.4 million loaves in the past week, he says.

And Bernstein senior analyst Bruno Monteyne says retailers can achieve up to 15% productivity improvements out of simplifying ranges.

However, suppliers have expressed fury at calls by Potts for GSCOP restrictions to be lifted so delistings could be pushed through more quickly.

"The supermarkets are making shitloads of cash right now," says one. "They say it's Christmas coming in March, but the difference is they are selling everything at full price.For them to be saying to suppliers we are making all this money, but we want you to take the hit from suspending part of GSCOP is a disgrace."

Ged Futter, former senior Asda buyer and director of The Retail Mind, agrees it would be a mistake for the government to allow for GSCOP to be relaxed.

"Should retailers be rationalising ranges and focusing on volumes, absolutely they should," he says. "The fact is that pragmatic decisions between retailers and suppliers are going on.

"If it's not a full delist and it's a temporary situation then suppliers will, of course, understand but if it's a third of your range being delisted without GSCOP protection this cannot be allowed to happen."

Futter adds that some suppliers have scrapped up to 70% of their ranges temporarily to deal with the crisis and concentrate on the remaining 30. "For example, that may mean switching to nine roll toilet roll packs only."


4. Supermarkets are recruiting more staff, redeploying staff, and altering opening hours
The Co-op has created up to 5,000 new store-based roles. Tesco, Sainsbury's and Asda are also understood to be recruiting, while 2,100 John Lewis staff have been redeployed to work in Waitrose stores and M&S has also switched fashion workers to food. In-store counters at major multiples have been suspended, along with in-store cafés and pizza counters, to focus on replenishment, and to free up warehouse and lorry capacity. Opening hours are also being reduced to allow more time to replenish ransacked stores, with Tesco 24-hour stores now closing at 10pm, for example.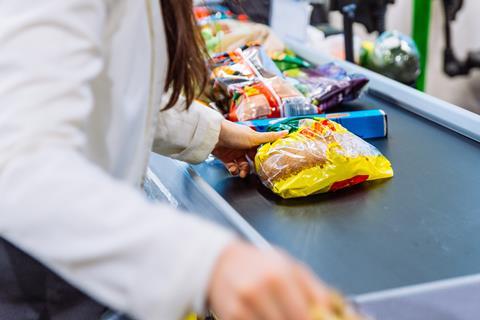 5. Supermarkets have successfully lobbied for red tape cuts
This week Defra secretary George Eustice confirmed that delivery curfews had been lifted and driver hours relaxed. Competition laws were also lifted this week to allow rivals to co-ordinate their response in a number of areas, including sharing data and logistics and even allowing them to confer to keep a minimum number of stores open, in the event of mass absenteeism from people sick or looking after loved ones. The government is also waiving the 5p plastic bag charge for online purchases effective today to speed up deliveries and minimise cross-contamination from reusing crates, although, for now, the charge will remain in-place for in-store purchases.

However, The Grocer understands other touted solutions to tackle the crisis, such as relaxing vehicle weight limits, is unlikely to happen due to fears over weak bridges, although this is being kept under review as the government monitors safety shortages.

When it comes to competition law, The Grocer understands rather than legislative changes, ministers will use so called "letters of comfort to allow practices such as businesses working together to share data and potentially labour, to prevent food shortages. A source says: "The approach is to set aside regulatory barriers to keep food moving through the supply chain and to allow businesses to have the freedom to co-ordinate among themselves."


6. Online capacity is increasing
While shelves in physical stores have been stripped bare, the crisis in online has stretched services to breaking point. Ocado experienced a near 1,000% increase in web traffic since the outbreak and enjoyed a 30% uplift in business but it came at a cost, with a complete suspension of the site for three days this week.

Even for those who've not experienced IT meltdowns, with delivery slots fully booked for the foreseeable future, the existing online infrastructure is insufficient to tackle the disease, so supermarket bosses are trying to find ways to limit online orders to the elderly and self isolating.

Tesco boss Dave Lewis wrote to customers this week that those in good health and not self-isolating should shop in-store, despite the problems with availability - to free up online services for the elderly and the sick.

Sainsbury's CEO Mike Coupe also wrote again to customers vowing (among other things) to significantly increase the number of click & collect sites across the country in coming days.

"Customers can place their order online as usual and pick it up from a collection point in the store car park," it says in a message to customers.

Yet Monteyne argues that recruiting more online pickers is a poor use of resources. Bernstein the chances of Online grocery coping with the crisis are "a pipedream."

"It's the most inefficient way of getting food to your house, you get someone else to pick and deliver it for you," he told BBC's Today programme.

"If we're going to have five to 10% labour shortages, it's more important that a person fills the shelf than sits there driving a truck.

"It's great at this moment, why not enjoy it while it's there in the early stages."

Yet not everyone is as gloomy about the delivery of online to cope.

That didn't stop And Morrisons is recruiting 2,500 extra pickers and drivers and 1,000 extra DC staff from 23 March, as well as offering emergency food parcels (including options for vegetarians) for families self-isolating. It is also launching a new customer call centre for customers not signed up to online delivery, amid fears many older patients will struggle to cope with the technology.

Meanwhile, retail bosses and government have floated that Deliveroo, Just Eat, Uber Eats, Yodel, DHL and other high street retailers take on additional supply chain capacity."There is unparalleled demand for food retailers and at the same time an unparalleled demise of others in non-food," an industry source says. "The big question is can non-food step up and help food retail cope with the demand and help with food deliveries. We have already seen this happen in China with their equivalents of Uber Eats and Deliveroo."


7. Supermarkets are helping suppliers face cashflow crisis… up to a point

It's not just the out of home sector warning of mass business failures. A deadly combination of staff shortages and slashed orders could be the death knell for many food suppliers.

Morrisons announced last week plans to introduce "immediate payments" for smaller suppliers to help cashflow, and upped its definition of 'smaller' from those with sales of £100,000 to £1m this week.

Other retailers claimed existing protection for suppliers would suffice, but on Friday Tesco switched from 14-day terms to five. Aldi said it paid suppliers on 14-day terms and would work to assist any that are struggling.

While some suppliers face delistings or are set to lose foodservice sales, even among those suppliers whose take-home business is booming, cashflow is a major challenge. Many suppliers are suggesting it will be a question of who is not struggling rather than the other way around, such is the extent of the crisis.

Cashflow will also be a challenge for wholesalers, says Sony Bihal, owner of Time Wholesale in Essex. He's calling on large suppliers to extend payment terms to their customers or risk seeing businesses collapse.

"Cashflow is a major issue for wholesalers and [smaller] retailers," says Bihal. "If this extends more than three months, you will definitely see businesses failing due to cash flow. It will become a question of who has the greatest defence interval. Our average terms are 30-45 days. No stock (mainly grocery) is being delivered by suppliers which means our cash flow has stopped rotating."

Bihal predicts the knock-on impact will be retailers paying late, which will force wholesalers to slow down payments to suppliers.

"My recommendation and advice is that large suppliers must extend terms to their customers and work together in supporting businesses through this pandemic."


8. Despite panic buying the food chain continues to function - at home and abroad
Behind the scenes the food supply chain is still working. And not just in the UK. Fresh produce supplies from Spain and Italy continue despite the lockdown. EU transport ministers agreed this week to introduce 'green lanes' at borders to allow food and other essential goods to flow more easily.

"If you watch the TV screens you would be forgiven for thinking all of Europe is in lockdown," says Futter, "But it's not like that in reality. The ports are all open and food is on the move. Yes, there have been problems with the extraordinary demand caused by stockpiling, but it really isn't necessary. The industry is reacting. It will cope."onikl
"All governments know that the health and food industries will be the pillars of this crisis."
Ambient players such as Kraft Heinz and Princes both came out strongly this week to reassure customers their supply chains were robust enough to handle the double threat of high demand for canned goods and potential disruption to processed tomato supplies from Italy.

Princes, which has a large number of tomato paste suppliers worldwide, says there has "been no impact to our business". And Heinz says production of all its varieties of beans, soups and pasta, has not been disrupted and insists "stock levels are good".

"Nothing has stopped completely," says Christian Härtnagel, Lidl's UK CEO. "Whereas people have stopped their social lives completely, in Italy, Spain and Austria they are going to work - especially when they work in the food industry. In lockdown countries people are asked to stay at home but they are allowed to leave their houses to buy food or medicine or to go to work.

"Exceptions are in place for truck drivers. All governments know that the health and food industries will be the pillars of this crisis."