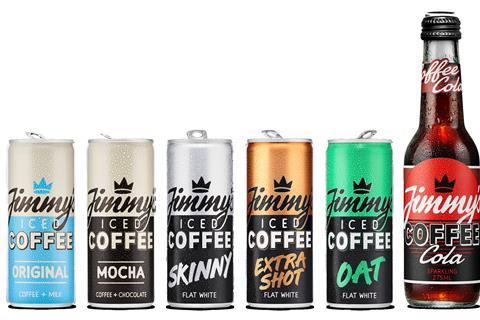 Molson Coors is moving into iced coffee, spirits and mixers, with a trio of new distribution deals.
The drinks giant, which embarked last year on a major push outside its beer heartlands, has signed up to sell and distribute Jimmy's Iced Coffee, Lixir Drinks and Southwestern Distillery's Tarquin Gin and Twin Fin Rum brands.
It will distribute Jimmy's and Lixir to the on and off-trade nationally. Southwestern, meanwhile, it will sell in the UK and western Europe.
Jimmy's founder Jim Cregan said the deal "gives us at Jimmy's the chance to reach places, fridges and people we've not been able to due to our limited resource as a small business".
They mark the latest in a series of similar deals for Molson Coors, which has added the likes of Bodega Bay hard seltzer and Miami Cocktail Company to its ranks over the past year.
The business has created a new team specifically to manage these brands, dubbed its Beverage Hub. It would also "focus on developing new routes to market" including the expansion of its DTC arm, Revl, which launched last year, it said.
The creation of the Beverage Hub was a response "to the growing number of consumers reaching for ready-to-drink options, premium spirits and aspirational adult soft drinks and opening up those growth opportunities for our customers", said Molson Coors Western Europe beverage director Jack Daniel.
"This is a milestone moment for us and marks the next phase of our long-term plan to ensure we are offering choice in line with new consumer tastes to drive our customers' growth, while also continuing to grow our core portfolio in the beer and cider category."
It was also "the next phase of our already established wholesale offer to the independent on-trade, where we provide a range of beverages outside our own beer and cider heartlands", he added.