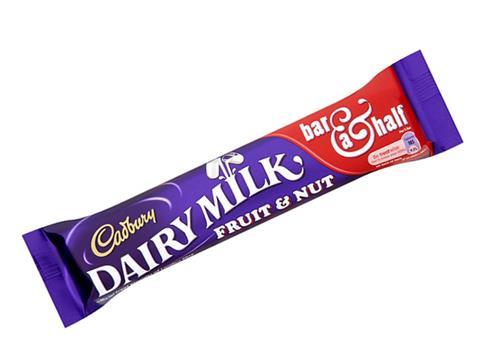 Mondelez International , the owner of chocolate giant Cadbury , has followed the lead of its rival Mars in announcing a calories cap on bars, as part of a new pledge under the Responsibility Deal .
The company revealed today it was committed to no longer making or selling single-serve confectionery over 250kcals in the UK from the end of 2015.
It will call time on its three 'Bar and a Half' products: Cadbury Dairy Milk Bar and a Half, Cadbury Dairy Milk Whole Nut Bar and a Half, and Cadbury Dairy Milk Fruit and Nut Bar and a Half.
Mondelez said it would also look to reformulate or resize at least two other brands, as it did with Boost last year, and indicated that they would be reduced in price.
The move comes under a pledge by 37 food and drink companies to reduce the nation's energy intake by five billion calories (kcal) a day.
"As a proud signatory to the UK Responsibility Deal on Public Health, Mondelez International knows that it has a part to play in helping people lead healthier lives," said a spokeswoman.
"One way do to this is to help consumers reduce their calorie intake. As part of this pledge, we have committed that, by the end of 2015, all our single-serve confectionery products will be 250kcals or less.
Most of Mondelez's products already fall below the cap but the company, which also makes products including Philadelphia and Belvita, said the move was part of a commitment to "help our consumers snack mindfully".
"We know that we have a responsibility to help people understand the food and drink they are consuming and how that can be done as part of a healthy lifestyle.
"Whilst this might be disappointing news for our Bar and a Half fans, we believe that by focusing on portion size, we can help consumers manage their calorie intake."
In 2012 Mars committed to cut the calorie content of its single-serve products to a maximum of 250 calories by the end of 2013 as part of its calorie-reduction Responsibility Deal pledge.
Subsequent changes in size saw the number of calories in a Mars bar drop from 260 to 229 and those in a Snickers bar from 280 to 245.