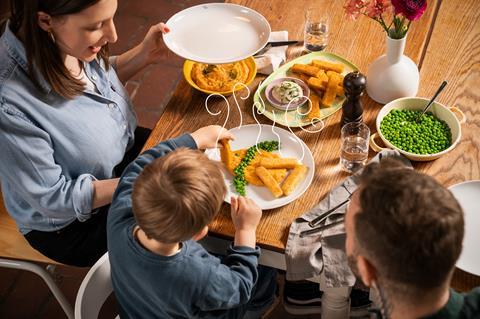 Birds Eye owner Nomad Foods slashed its absolute carbon emissions by almost 11% in 2020 despite being forced to ramp up production due to Covid-related demand.
According to its latest annual Eating for the Planet report, the company also managed to lower its CO2 emissions per tonne of finished goods by 21% against a 2019 baseline to 484.7kg of CO2e from January to December last year.
Both reductions came as a result of better waste management and recycling of materials, production efficiencies and increased use of renewable energy, it said. All this was achieved despite the huge demand for frozen foods seen during the initial phase of the pandemic.
Some of the specific measures Nomad had taken included reducing edible food waste per tonne of finished product by 31% and moving six factories to 100% renewable electricity, which helped to raise the total proportion of its electricity sourced from renewables from 26% to 60%.
It also upped the proportion of its recyclable packaging across all its brands from 73% to 83% as it continued its pursuit of making all its packaging recyclable by the end of 2022. But the company added that the coronavirus pandemic had slowed progress due to disruption of working patterns and increased demand, while Brexit had meant it was forced to focus its attention on minimising supply chain disruption.
The report stated its progress on emissions and packaging was necessary because not only was the potential impact of climate change a risk to the planet and society but it also formed a "central risk" to the business.
"As Europe's leading frozen foods company, we are committed to playing our part in transforming the food system and reducing pressure on resources," said Nomad Foods CEO Stéfan Descheemaeker.
"We also have a huge opportunity to help consumers eat sustainably because our portfolio is centred around great-tasting fish and vegetable products that are good for people, good for the planet, affordable and available everywhere. While there is still much to do and areas where we must improve, we are excited by what we are doing to deliver positive change."
Nomad's report also focused on its sourcing operations, with it showing that it now procures 96% of its fish and seafood from MSC or ASC-certified sustainable sources.
While this amounted to growth of one percentage point on 2019, the company said its operations in five out of the 14 markets in which it operates – including the UK – had achieved its 2025 goal to get all fish and seafood from sustainable or responsibly farmed sources.
It added that it would seek to meet the growth in demand for frozen fish and seafood seen during 2020 by allowing an increase in sourcing from fisheries without MSC certification that had independently verified plans for achieving it. Nomad said this would account for a small percentage of the total volume of fish it sources and would help the fisheries in question accelerate their path to certification.
On its vegetable sourcing practices, the company said 77% of its volumes were grown in line with the Sustainable Agriculture Initiative Platform Farm Sustainability Assessment's 'silver' level. It said it aimed to increase this figure to 100% by 2025, something it took steps towards recently when it announced a partnership with WWF.
The report was said to have been influenced by the Global Reporting Initiative and to have met the requirements of the EU directive on non-financial reporting.
It comes as Nomad's brands experienced mixed results in The Grocer's Britain's Biggest Brands report. Both Birds Eye and Goodfella's respectively delivered value sales growth of more than a fifth, while Aunt Bessie's dropped 13 places due to a 4.3% decline primarily inflicted by lockdown restrictions at Easter and Christmas 2020.