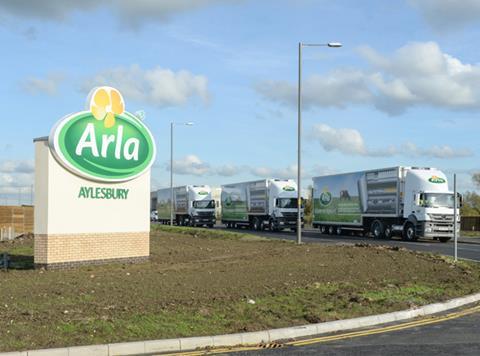 Arla Foods has moved to reassure its supermarket customers that a planned Easter strike by delivery drivers will not affect fresh milk deliveries to stores.
A group of 100 drivers, who were recently transferred from Arla to Moran Logistics, have voted to stage a 72-hour strike from Wednesday 1 April in a dispute over holiday pay and pensions.
Arla outsourced its outbound delivery operations to Moran Logistics, a Leed-based haulage company, earlier this month. The 100 drivers, all former Arla employees, were transferred to Moran under TUPE (Transfer of Undertakings Protection of Employment) regulations.
Announcing the strike, unions UNITE and GMB warned of "severe disruption" to milk supplies and shortages in supermarkets across the North over the Easter weekend.
However, Dan Kolding, Arla Foods senior vice president of supply chain, claims there are "full contingency plans in place" to ensure deliveries to customers would not be affected.
He added Arla remained "committed to reaching a mutually acceptable resolution in order to avoid the proposed industrial action", which the company believed was "unnecessary".
Unite and GMB have accused Arla of "short changing" their members by failing to honour commitments made prior to the transfer, but Kolding insisted the company has worked with Moran to ensure all affected employees were treated in a "fair and consistent way" in line with TUPE requirements.
"We continue to be fully committed to supporting affected colleagues as they go through these changes. We have consistently sought, and have now secured a meeting with both UNITE and GMB unions in order to clarify their position," he said.
Separately, Arla announced this morning that it would raise milk prices for its 3,000 British dairy farmer members by 0.83p/litre to 25.8p/litre from 30 March.
The move was welcomed as a "step in the right direction" by the NFU, who called for other dairy processors to follow suit.
"They cannot hold on to increasing returns at a time when farmers are suffering monumental losses of income, we must see returns to the farm gate immediately," said NFU dairy board chairman Rob Harrison.