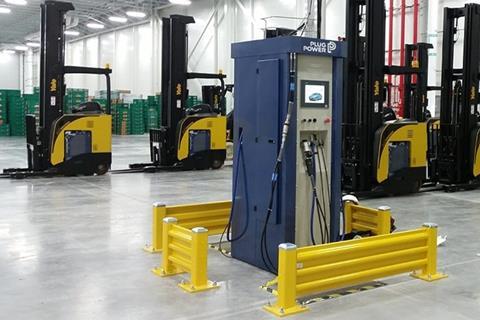 Asda has announced it will become the first UK retailer to use hydrogen fuel cells to power its material handling equipment, in a move to slash its carbon footprint.
A six-month trial will take place at its Skelmersdale chilled distribution centre in Greater Manchester, and will be used in equipment such as forklift trucks and order pickers.
The fuel cells, which are produced by Plug Power, have twice the power of lead acid batteries and release zero emissions, with water the only byproduct.
Asda said it hoped the trial would see the retailer reduce its carbon dioxide on the site by 120kg per year and electricity usage by close to 300,000 KWh per year.
"Being a sustainable business is a big priority for us, so we are delighted to introduce a new way of working which will have a significant impact on our carbon footprint," said Darren Pettener, general manager at Asda's Skelmersdale CDC.
"We are excited by the possibilities this trial presents and also what we could achieve in the future."
Asda has a target to remove a billion tonnes of emissions globally as part of Project Gigaton, with 179 Asda suppliers having already signed up to the commitment.