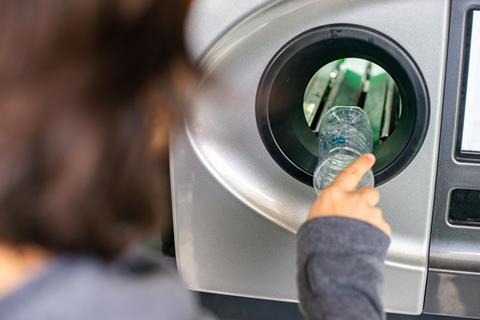 Plans for a deposit return scheme in the UK have strong support from the public – but this falls significantly when people are asked if it should happen while the country is in the midst of a cost of living crisis.
An exclusive poll for The Grocer by Harris Interactive revealed more than 66% of people backed the plans, with 17% opposed and a similar figure unsure.
However, asked if it would be right to implement a scheme before the UK had recovered from the economic situation, support was much lower.
Just 56% said they would support a DRS in that situation, while opposition grew to 25%, with 18% unsure.
The poll also revealed strong support for glass being included in the scheme. The UK government, which opposes the inclusion of glass, is currently on a collision course with governments in Scotland and Wales, which want it included.
Harris interviewed more than 1,000 representative households across the UK for the poll, which comes amid speculation that the government may again delay or even scrap DRS, as fears mount over the costs.
Supermarket bosses claim DRS could cost the industry up to £1.8bn a year to run and have an inevitable knock-on impact on prices, though the figures have been strongly disputed by soft drinks bosses.
This week, Tesco CEO Ken Murphy called on the government to listen to retailer concerns, saying it must learn from the disastrous failed rollout of DRS in Scotland.
"What we would say to the government is the affordability of sustainability is a challenge to everybody," he said.
"Getting regulation right is super important. We learned from the DRS situation in Scotland that involving industry earlier, designing the scheme together and getting it right first time is enormously important to help us get to our sustainability goals more affordably and more quickly."
The government has said it will implement regulations to underpin DRS by next summer. However, alongside doubts the inflation crisis will be over by then, DRS also faces uncertainty due to Rishi Sunak's recent rowback on environmental policies.