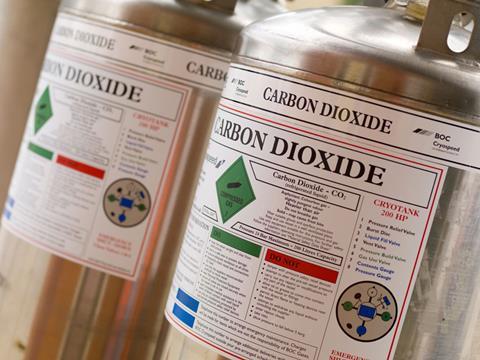 The food sector is facing a fresh shortage of CO2 gas that could "dwarf" the crisis that led to widespread food and drink shortages in 2018, the British poultry Council has warned.
Already soaring natural gas and wholesale energy prices across Europe were compounded by a fire in Kent on Wednesday that damaged a key power line linking the UK to France.
This led the National Grid to warn of a reduction in the amount of electricity available across its network until at least the middle of October. And the increase in energy prices caused by the tightening of supply led fertiliser manufacturer CF Industries to halt operations at its plants at Ince in Cheshire and Billingham in Teesside this week, with no indication of when it intended to reopen them.
CF is understood to produce more than 40% of the UK's fertiliser supply. But crucially – with carbon dioxide a byproduct of the ammonia used in fertiliser manufacture – as much as 60% of the UK's industrial CO2 needs were also met by the supplier, said BPC CEO Richard Griffiths.
As a result, poultry suppliers were now fearing shortages of the gas that could be even worse than those seen three years ago, he suggested. And this could further disrupt food production and exacerbate issues created by the ongoing labour crisis – ultimately leading to food shortages and threatening national food security.
CO2 gas is a key input for food manufacturers for a host of uses, ranging from the cooling of meat to the stunning of animals and in the modified atmosphere packaging used to prolong the shelf life of fresh foods.
Poultry suppliers were already seeing shortages of the gas for use in packaging, Griffiths said, with suppliers "not scheduling any deliveries [of the gas] beyond the next 24 hours".
The BPC was now establishing the current situation regarding supplies across the poultry sector, but Griffiths warned: "We know it will be bad, big slaughter plants need at least one delivery a day.
"The kind of volume required by the sector isn't easily replicable from other gas suppliers," he added. "Some will look to electrical stunning, but many suppliers don't have the skills required any more."
The knock-on effect would ultimately lead processors to have to keep birds on farm for potential culling if throughput fell too far due to animal welfare considerations, Griffiths suggested.
It also raised "serious questions" about a long-term strategy to potentially move away from reliance on the fertiliser supply chain for CO2 gas, he added, after the crisis of 2018 and new concerns over gas shortages in July of this year.
"Many companies are investing in anaerobic digestion plants as an alternative way of supplying CO2, but that's a long-term solution."
His comments were echoed by British Meat Processors Association CEO Nick Allen, who called for a "strategic response from government" and said the crisis highlighted the fact the British food supply chain "is at the mercy of a small number of major fertiliser producers" spread across northern Europe.
"We rely on a by-product from their production process to keep Britain's food chain moving," he added.
In a statement, CF Industries said it "does not have an estimate for when production will resume at the facilities". Meanwhile, a Defra spokeswoman said it was "monitoring this situation closely and are in regular contact with the food and farming organisations and industry, to help them manage the current situation".
It comes as the gas shortage is already affecting other parts of the food sector, with Wyke Farms MD Rich Clothier telling The Grocer this week that the business was also experiencing disruption to its supply of the gas, which is used in the packaging of its cheese.
"Our supplier called force majeure two weeks ago and we've been living hand to mouth ever since," he said, adding the shortages were having a particular impact on its export cheeses, which require longer shelf lives.