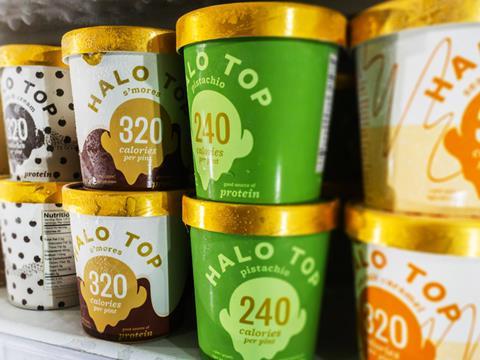 US ice cream brand Halo Top says it is considering making its reduced-calorie desserts in the UK following a "wildly successful" British debut.
The Californian grocery sensation arrived in the UK in early January, importing seven variants from its homeland.
Demand for the stevia-sweetened ice cream had been "incredible" said Doug Bouton, president & COO of Halo Top Creamery. As a result, the brand was "currently looking into" the possibility of UK-based production.
His comments came after social media users raised concerns that Halo Top was struggling to match demand, as the ice cream was repeatedly unavailable at its main retail partner, Tesco.
Boulton insisted this was down not to insufficient imports from the US but consumer enthusiasm. With the £5-a-tub Halo Top being "the first ice cream you can eat every day" shoppers were likely to "buy out an entire shelf in one visit".
Tesco, too, insisted it was not experiencing supply issues. "We're delighted to offer Halo Top in over 1,200 of our stores," said a spokesman. The lower-cal ice cream had "been a real hit with our customers".
Last week, the 'healthier' ice cream market welcomed the latest challenger to Halo Top: Ben & Jerry's Moo-phoria from Unilever. It is expected to arrive in the UK next month in two variants, Chocolate Cookie Dough and Caramel Cookie Fix, containing no more than 132 calories per 100ml.
Unilever first took on Halo Top in January when it rolled out reduced sugar Breyer's Delight from the US.