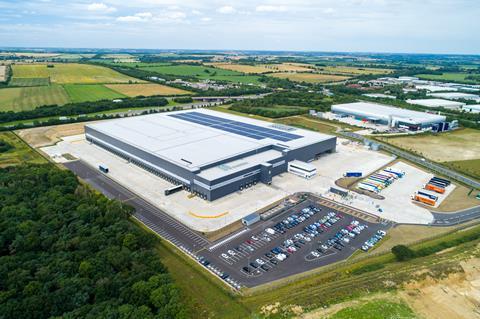 Lidl GB is set to open its new £70m regional distribution centre in Peterborough tomorrow.
The 450,000 sq ft facility is replacing an existing smaller warehouse in Lutterworth, which will continue to operate as a non-food DC.
Lidl said 400 staff would be initially employed at the new site, with plans to add a further 50 roles this year.
The discounter said it had managed to open Peterborough on schedule despite the impact of the Covid-19 crisis. It is also continuing with plans to open new DCs in Luton and Bolton, along with the expansion of its existing warehouses in Belvedere and Bridgend.
"As a supermarket it has been our priority over the past months to ensure that the communities we serve continue to have access to much-needed food supplies and essentials," said Lidl GB chief operations officer Matthew Heslop.
"This is very much still our focus, and with the addition of our new Peterborough distribution centre, we are further strengthening our logistics and operations to ensure that we can continue to serve as many customers as possible with quality food at Lidl prices."
Stephen Hutchinson, Lidl regional director for Peterborough, added: "I am immensely proud of all of our colleagues that have worked tirelessly to ensure this warehouse can open on time. Keeping on track with the build, and the preparations to go operational under these exceptional circumstances, has only been possible because of their hard work and we are incredibly grateful to everyone that has been involved."
The Peterborough facility will initially service 48 Lidl stores in the area.