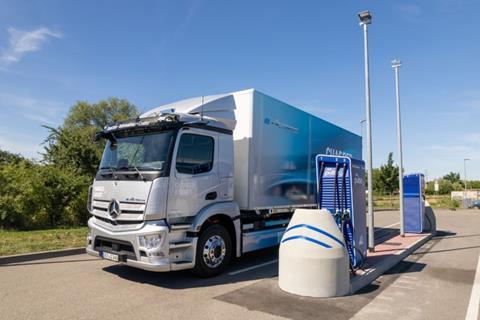 The logistics sector has condemned the prime minister's announcement that he would be delaying decarbonisation targets across the industry.
Rishi Sunak announced on Wednesday a u-turn on a series of key green commitments, such as postponing a ban on sales of new diesel and petrol cars from 2030 to 2035.
The original 2030 date has been government policy since 2020, when Sunak's predecessor Boris Johnson was in power.
The logistics sector, which has some of the most ambitious net zero targets, set by ministers that year, has often asked the government for support in transitioning to a decarbonised economy – including more funding for truck charging stops.
Logistics UK CEO David Wells said the latest delay announcement created even "more uncertainty".
"Pushing back the deadlines to decarbonise, rather than making progress on the investment and policies logistics businesses need to implement the route to net zero, is unhelpful and will discourage private investment in the UK and its industries.
"There is still much to be done, from delivering a charging network to confirming plans for alternatively fuelled vehicles, but our industry remains committed to achieving net zero."
Wells added that if decarbonisation deadlines were to be achieved, it was "vital for the health of the UK's supply chain that the government does the same".
"At a time when industry needs detail and action, delay just creates more uncertainty."
The Road Haulage Association has also asked the government for "urgent clarity" on what the announcement meant for the future of HGVs.
"Businesses looking to play their part on the road to net zero need certainty, not delays," a RHA statement said.
"Government needs to collaborate with industry to come up with a detailed plan that provides certainty for investment, drives innovation, and directs support for those who want to do the right thing.
"This is the only way to bring down costs and encourage companies to make the switch to net zero in the long term. Simply changing deadlines without a clear plan in place will do neither."
Four things affecting fmcg following Rishi Sunak's green rowback
1

2

3

Currently reading

Logistics sector hits back at government's green u-turn

4