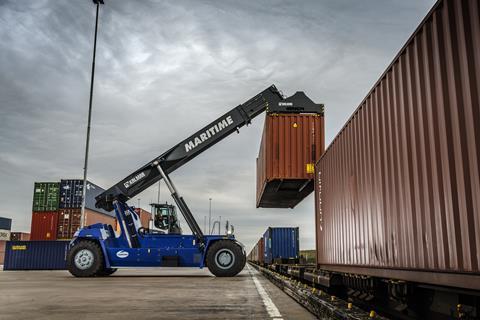 Thousands of tonnes of food deliveries look set to be shifted from road to rail under a ground-breaking collaboration involving 20 of the industry's major food and drink suppliers, The Grocer can reveal.
The companies met last week to discuss plans for the move to accelerate reductions in supply chain carbon emissions, as fears grow that without drastic measures suppliers are on course to spectacularly miss their net zero targets.
The initiative is being run by Simply Supply Chain alongside transport giant Maritime Intermodal, which is developing a growing network of rail freight terminals across the UK.
It has just won the contract to run rail freight for Tesco, one of the companies that has been pioneering greater use of trains instead of road for distribution to its stores.
Maritime, which also runs rail deliveries for the likes of Coca-Cola, has moved 20% of all its deliveries into rail since 2019, claiming to have slashed carbon emissions for the loads in question by almost 50%.
Now, for the first time, companies are being offered the chance to share container loads rather than operate whole trains.
Companies involved in the talks include Nestlé, Kraft Heinz, Tate & Lyle, Arla and Refesco with the talks including a site tour of Maritime's terminal at the East Midlands Gateway, part of a network which has seen it grow rail freight volumes from under 800 containers a week in 2019 to almost 5,000 a week at last count.
However, the meeting was told there is still huge headroom for growth in rail, which coincides with companies facing a race against time to hit net zero targets and the government drawing up plans for large companies to face mandatory Scope 3 reporting.
The new initiative is understood to be the first major initiative of its kind to enable food and drink companies to share rail capacity, with other suppliers who have agreed to join the initiative including Concha Y Toro, John West,Thornton Ross, Pladis and Butcher's Petcare.
Jonathan Kittow, founder of Simply Supply Chain, said the talks came amid a growing realisation that without accelerating action from suppliers net zero targets had no chance of being hit.
"We can't wait for technology to provide the solutions, we have to be more efficient at what we're doing now," he said. "There's never been an industry initiative of this scale."
John Bailey, managing director of Maritime Intermodal, said he was confident on the back of the discussions that as many as 10 new customers would be using its rail deliveries for the first time by the end of this year.
He said as well as the need to reduce carbon, the shift to rail could safeguard against labour shortages and delays to deliveries caused by growing gridlock on the UK's roads.
"There is a huge environmental incentive for companies to make this shift because of Scope 3 targets but there is also a very real economic incentive.
"We can't bury our heads in the sand and pretend the driver shortage has gone away. We need to realise that it's far from over and in fact could get worse again.
"Trains will have to vital part in the future."
He added: "We are having conversations with many companies on the back of these talks. Tesco will have a huge part to play going forward."
Last year Tesco announced it had increased its volume of deliveries by rail by 50% with UK CEO Jason Tarry declaring it had "clear advantages for our business, our customers and the planet".