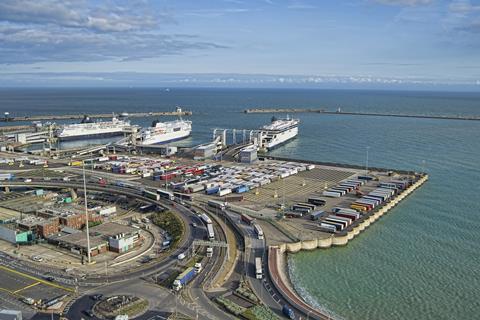 Smaller UK food importers and EU-based exporters to the UK could struggle to adapt to new post-Brexit border checks set to be introduced in the new year, supply chain experts have warned.
With "far less attention being paid to the intricacies of Brexit within mainland Europe", the new system could "come as a shock" to some continental suppliers whose levels of preparedness were hard to gauge, said Cold Chain Federation CEO Shane Brennan, and this could ultimately affect the flow of goods to the UK.
After a series of delays over the past year, pre-notification will be required for agricultural and food imports from 1 January. Certification and physical checks are due to start from July, though dairy will be exempt from the latter until 1 September.
While there was a "lot more capacity" to cope with paperwork on the UK side compared with this time last year, Brennan added, "communication channels into the EU business community are poor", he said. "It's the main risk area."
"I'm not sure enough is being done to get the message that a change is coming out to the European business audience that needs to hear it."
His comments were echoed by Dirk Dobbelaere, secretary general of CLITRAVI, representing the EU's meat processing industry, who said the issue of impending border checks for food sent to the UK had not even been considered, as "none of our members have raised this in 2021".
Elsewhere, Alexander Anton, secretary general of the European Dairy Association, said his group was "taking stock of possible problems that still might arise in the run-up of the introduction of the announced checks and documentation" by the UK.
"An example of issues we have identified and passed on included translation problems in TRACES," Anton said, referring to the Commission's webpage for sanitary and phytosanitary (SPS) certification required for food trading.
In 2020, EU member states supplied over 70% of the UK's agri food imports, according to European Commission statistics. In turn, 13% of the bloc's imports came from the UK, though that trade amounted to over 60% of British exports in the sector.
Irish food and drink businesses are likely to be among the best prepared in the EU, with about a third of the country's related exports going to the UK in 2020.
Dairy co-op and Kerrygold owner Ornua sends about 25% of its exports to the UK. Bernard Condon, MD of Ornua Ingredients, said the business was "confident we have the systems in place to facilitate the added controls that will be implemented on 1 January".
"However, we will need to co-ordinate closely with our customers on importation arrangements," Condon said, warning the imminent introduction of UK-side controls could further complicate an "already stressed supply chain".
It comes as the UK government warned traders on 1 December that "unless your goods have a valid declaration and have received customs clearance, they will not be able to be released into circulation, and in most cases will not be able to leave the port".
Tim Morris, the CEO of Major Ports Group, which represents nine of the country's 10 biggest operators, said: "The experience of the imposition of controls so far is that there is an initial challenging period for everybody as we all bed down into the detail of the new procedures."
Ahead of the deadline, Morris added "larger end users that ports interact with directly have generally undertaken a lot of preparation and both built and commissioned the right expertise".
But when it came to smaller operators, there was "inevitably concern about preparation and capability," he warned.
Operators and traders with a track record of doing businesses outside the EU should be best-placed to handle the new year changes, suggested Professor Michael Gasiorek, head of the UK Trade Policy Observatory at Sussex University.
"I suspect a number of firms would be 'ready' and could adjust relatively quickly – [particularly] those that have prepared and with more experience in trading with non-EU countries," Gasiorek said.
Yacine Amor, MD of the London-based Artisan Olive Oil Company, agreed: "Experience in importing foods from non-EU countries will be useful under the new framework to be used for EU imports into the UK."
The warnings follow mounting frustration over how the SPS import controls would be introduced from 1 July.
The Grocer reported last month that some businesses feared they would be put at a commercial disadvantage by the phasing in of the checks, which could mean some companies could essentially avoid them for longer, depending on what type of food commodity they were importing.