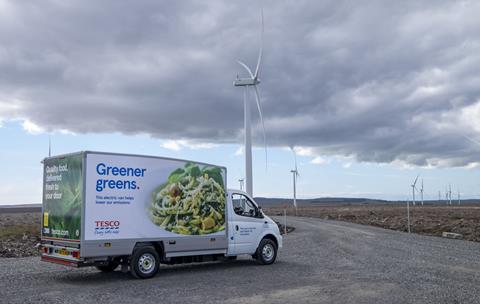 Tesco has set out the steps its suppliers need to take to meet the retailer's pledge to be net zero across its entire supply chain by 2050.
In a letter from chief product officer Ashwin Prasad, Tesco detailed four key actions it wants suppliers to take, including providing the retailer with details of their current greenhouse gas emissions by the end of this year.
Tesco suppliers are also being asked to establish their own net zero ambitions by the end of next year, and set themselves science-based targets to support the delivery of these ambitions by the end of 2023.
The fourth strand urges suppliers to switch to renewable energy now "as a simple initial win".
"Climate change is the greatest challenge we face, as a society and as a business," Prasad wrote. "Our food system is at the heart of this crisis. I am writing to request your leadership and support to stand with us against climate change and help deliver a transformation in the environmental impact of food."
He added that "the food sector is, unfortunately, at the heart of this crisis, already responsible for 30% of greenhouse gas emissions, and more than 60% of global biodiversity loss. If we are to avoid the most severe consequences of climate change, urgent, collective action is required to meet the UK's climate goals and shift our economies on to a zero-carbon pathway. We have no time to waste."
Prasad said support would be available through the Tesco Supplier Network. While the supermarket will be strengthening supplier requirements and data collection on this issue further in the coming months and years, he said he did not see a situation where suppliers would be penalised.
Prasad added that Tesco had shared this plan with about 40 of its biggest suppliers at its office last week and their response had been universally positive.
"I don't see a punitive scenario as everyone in the industry is working towards the same objective," agreed one leading supplier. "This is a true partnership initiative."
As part of its new sustainability targets announced last month, Tesco also said it planned to reach net zero in its own operations by 2035.