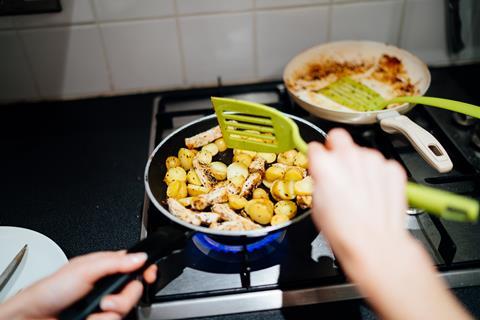 When we come out of the other side and we reflect on what happened during the coronavirus crisis, I hope that we realise how much can be achieved when we collaborate. The current situation has forced previous rivals to both improve their communication and put aside petty differences.
To succeed we don't need to relax GSCOP rules, as one retailer suggested. GSCOP is not slowing down the supply chain. All around the UK teams are working 24/7 to ensure that one of the world's most sophisticated supply chains keeps going and customers can keep buying. We have seen behaviours from some customers that have pushed the supply chain to its limits, but it has held firm.
While we are in this period of uncertainty, we need to increase the levels of communication to ensure we have the right products in the right place as quickly and as efficiently as possible. In the short term there may be a need to reduce range. We need a shared creativity and flexibility to adapt and deliver what is available.
Many manufacturers will not be holding months of packaging or raw materials, so if all the volume is pushed into a limited range for a sustained period then this will have a knock-on effect on availability as packaging stocks are depleted. What happens when this packaging runs out? We need to keep talking to avoid large volumes of food being wasted by manufacturers.
We know that the move to working from home and now the closing of schools will place further demand on the retail sector. It has also been increased by the temporary closure of pubs, restaurants, cafés and hotels, as well as many key takeaway outlets. To cope with this, production will need to be as simple as possible.
We must also adapt to customers' buying habits as they move through the different stages of this pandemic. Now we are seeing stockpiling of many basic products, but as we move through to a period of lockdown customers' needs and buying habits will change. The average customer has a repertoire of only about five different meals that they make at home, of which they will quickly get bored. So they will then start looking for inspiration. And how can they get their takeaway favourites at home, with no KFC, McDonald's, Nandos or Starbucks? The answer will be found in our retailers.
The world that we lived in has changed forever, we have been forced to use the technology that has been around for years, we have been forced to collaborate with people we previously saw as rivals. We have an opportunity for greatness here, we can look at this as resetting the bar, we are just raising it to new higher levels of cooperation and compassion.We can move from me to we, from I to us.
We have been calling for greater collaboration between retailers and the supply base for years, and Covid-19 has made it a necessity. Now is the time for optimism and great leadership. We need to share great ideas and solutions. We cannot let any part of the food supply chain fail, be it in foodservice, retail or direct to consumer. Let us all work together and talk together to do this, albeit remotely via the technology that we have at our fingertips. We all want the same thing: to feed the nation.