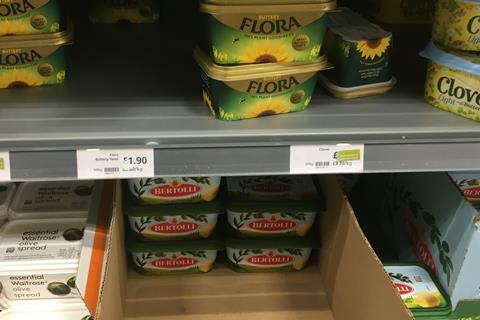 Supermarkets faced shortages on a number of Upfield products last weekend after a switch in warehouse provider led to "chaos" in the spreads maker's supply chain.

Several Flora, Bertolli and Stork products went out of stock at retailers including Morrisons and Waitrose following Upfield's switch from DHL to NFT on 6 June, The Grocer can reveal. Seven Flora products were still unavailable on the Morrisons website at the time of writing on Wednesday.

It is understood difficulties around the contract change ultimately led to a temporary halt in production at Upfield's Purfleet factory in Essex on Monday, as the business moved to tackle the backlog at its new NFT warehouse in Tilbury.

The switch from DHL's warehouse in West Thurrock had gone "massively tits-up", said one source with knowledge of the situation, forcing Upfield to shift some product to another NFT warehouse in Daventry. Issues surrounding the switch to NFT had been further exacerbated by a separate industrial dispute with trade union Unite over plans to transfer 51 DHL staff to NFT.
Unite last month said the transfer meant workers faced the prospect of a "serious and permanent erosion of their pay and working conditions". However, a planned 24-hour strike was averted on 5 June after Unite and NFT both agreed to talks.

A spokesman for NFT acknowledged "some initial implementation challenges in the move from West Thurrock to Tilbury". However, he stressed NFT and Upfield had "worked closely to quickly resolve these initial issues" and were "restoring service to customers".

Upfield had experienced "some process problems with supply", said a spokeswoman for the spreads giant. However, this was being "quickly resolved", she pointed out. "We made sure that those customers affected were kept fully informed and we remain focused on delivering our service."