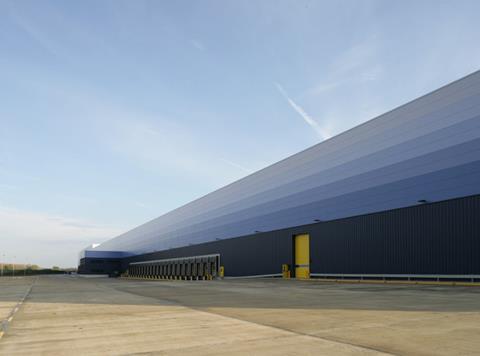 Waitrose's new national DC in Milton Keynes is on course to save a small fortune on energy costs when it opens this summer because of improved efficiencies.
The Buckinghamshire DC, spread over 45 acres at IDI Gazeley's Magna Park development, is expected to save the supermarket group £7,400 a year in energy costs rising to £222,000 over the building's lifetime and deliver a massive dent to climate-warming carbon dioxide emissions.
These are expected to be achieved through various technologies that reduce running costs through reduced loss of heat and chilled air.
Chris Burgess, research, development and pre-construction manager for FK Group, who were involved in the project, said it was "a real leap forward in the construction of this type of building."
Chris Wallis, business development manager at Kingspan Insulated Panels, whose products are used extensively at the new site, said: "This just goes to show the efficacy of insulated panel systems, which can achieve unparalleled performance compared with old-fashioned, built-up systems technology."
The 940,000 sq ft supply hub will handle the 25,000 product lines needed for Waitrose's stores and online operations, delivering to the retailer's four regional DCs.
The opening of the depot will see Waitrose stop delivering form its Kuehne + Nagel-run Celestia depot, as The Grocer reported in March.