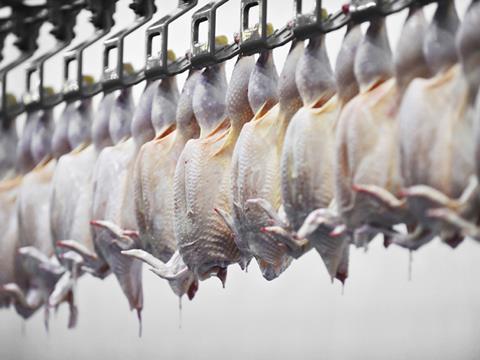 The worst of the CO2 supply crisis looks to be over, according to the British Poultry Council, with the UK's main poultry processors having switched back from electrical to gas stunning during the past few weeks.

While the supply situation was "not entirely back to normal", processors were becoming increasingly confident supplies of the gas were now holding up, said BPC chief executive Richard Griffiths.
The sector was plunged into crisis just over a month ago, when Griffiths warned shortages of food grade CO2 - the severity of which had previously been limited to the drinks sector - had also left most of the UK's poultry processing plants on a knife edge.

Production could stop "within days", warned Griffiths, with CO2 used to slaughter animals and in controlled atmosphere packaging.

Shortages of CO2 were also felt within the pork sector, with the likes of Tulip being forced to halt production at the Brechin plant it runs in partnership with Scottish Pig Processors. Cranswick warned it also faced several weeks of disruption from piecemeal gas supplies.

Most major poultry processors eventually managed to secure small amounts of CO2 supply and switched to electrical waterbath stunning as a short-term solution to keep production going. The BPC also lobbied government to ensure livestock-based sectors were given priority of CO2 supply on animal welfare grounds.
Back to gas stunning
And "anyone who did switch to electrical stunning at the height of the crisis will have now moved back to gas stunning", Griffiths said.

"It looks like the prioritisation we pushed for the poultry sector is sticking," he added, while noting the BPC's members were now "doing alright".
But despite conditions improving for the poultry sector, the supply of CO2 remains a distinctly mixed picture within other food and drink categories.
Supplies were still unreliable, said British Meat Processors Association CEO Nick Allen, and "as yet there has not been the ability to fully replenish supplies", he added, with communication from the gas sector "remaining an issue".
Shoppers have also continued to report a shortage of carbonated drinks in supermarkets across social media, while The Grocer reported earlier this month that CO2 shortages had led retailers to cut fizzy drinks promotions.
Shortages hit cheese sector
Shortages of the gas had now also hit the dairy sector, said Wyke Farms MD Rich Clothier, with the cheesemaker running out of CO2 last Thursday (19 July).

"We've just run out," Clothier told The Grocer on Friday. "All cheesemakers use CO2 in flow wrap packaging or a mixture of CO2 and nitrogen. The CO2 is absorbed into the cheese, which keeps the packaging tight," he said.

"Our supermarket customers have now given us a derogation to use nitrogen, but this means the packs are looser," Clothier added. This had a minor effect on shelf life, he said.

"These kinds of situations do highlight just how vulnerable our supply chains can be," he said, "particularly when you look at just how consolidated this market has become for CO2".

Wyke was now re-evaluating its risk assessments for other inputs in light of the CO2 crisis, Clothier said.