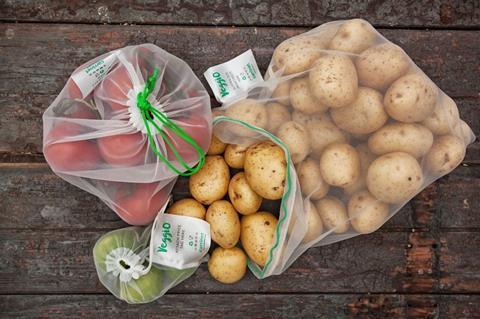 Asda is replacing free plasic fruit & veg bags with a resuable alternative made from 100% recycled plastic water bottles in a nine-store trial.
From Monday, instead of the usual cascade-style plastic bags, Asda will be offering 'Veggio' bags, priced at 30p each, which it said would provide customers with an affordable, reusable alternative to single-use plastic.
The trial, at stores including Harrogate, Middleton and York, could save about 141 tonnes of plastic a year, the equivalent of over 3.5 million bags if it was rolled out across Asda's estate, it said.
"This is a really exciting step in our journey as we continue to look at innovative ways we can reduce unnecessary plastic from across the business and meet our target of reducing own brand plastic by 15% by 2021," said Kevin Patel, director of produce at Asda.
"We know that our customers and colleagues are really passionate about sustainability and we want to make it as easy as possible for them to do their bit for the environment, without having to compromise on quality".
The move is the latest in a series of moves by supermarkets to reduce plastic in fruit & veg aisles. In November, Tesco announced plans to remove small plastic bags such as those used to pack loose fruit, vegetables and bakery items, and replace them with paper ones, by the end of 2020.
Last year Waitrose replaced single-use carrier bags for loose fruit & vegetables with a home-compostable alternative in all shops, which saved 134 million plastic bags per year.
These and other measures from supermarkets look set to be ramped up as pressure returns on them to do more in the war on plastic.
Earlier this week a report by Greenpeace claimed UK supermarkets could eliminate 50% of plastic packaging within five years by focusing efforts on 54 key categories.
Meanwhile, War on Plastic presenter Hugh Fearnley-Whittingstall called on shoppers to boycott products and retailers not doing enough.