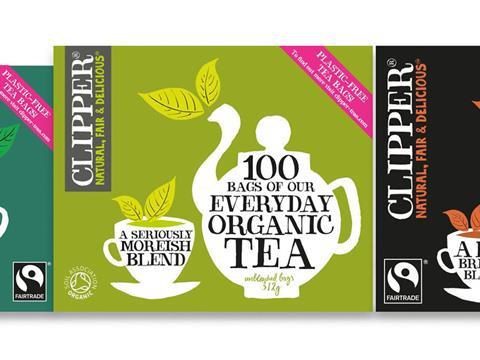 Clipper Teas is set to launch what it claims is the world's first plastic-free, non-GM and unbleached heat-sealed teabag.
From this week, every pillow-style teabag produced in the organic brand's Dorset factory will be made from a natural plant-based material – a blend of abaca (a species of banana), plant cellulose fibres and PLA derived from non-GM plant material.
Clipper said it previously rejected PLA, a bio-polymer used by many suppliers, because it "usually derives from corn, which may be from GM sources". The Wessanen-owned business "therefore took time to develop a solution that fully aligned with the principles of the brand and was guaranteed to be from non-GM sources".
Like Clipper's previous teabags, the new ones are unbleached. They were the result of "an extensive period of detailed trials and material sourcing" said the brand, which started running trials in January to produce an eco-friendly teabag using existing machinery. "The biggest investment has been in the time taken to develop the new bag."
Rollout will be deferred while retailers and venue operators sell through existing Clipper stock – to "avoid unnecessary waste". To let shoppers know about the change, an on-pack flash will appear from January.
Clipper was "proud to be the first tea brand to introduce a plastic-free teabag that's also non-GM and unbleached" said brand controller Rebecca Vercoe.
It comes after other leading hot beverage suppliers committed earlier this year to launching sustainable teabags. In February, PG Tips said it would shift to "fully biodegradable, plant-based material". A month later, Tetley and Bettys & Taylors of Harrogate announced trials of 100% biodegradable and polypropylene-free options.