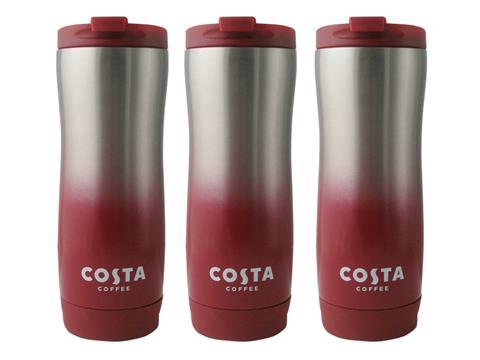 Costa Coffee is launching a reusable coffee cup that can also be used to make contactless payments like a bank card.

The Clever Cup has a detachable rubber base containing a removable contactless payment chip similar to those in debit and credit cards.

It means users can tap the cup's base against a payment terminal to buy any item up to the usual contactless limit of £30.

It can be used wherever contactless payment is accepted, not just in Costa branches.

The payment is deducted from a dedicated Barclaycard account provided with the cup and chip, which customers can top up using the smartphone app bPay. Top-ups must be made from an existing Visa or Mastercard account and the maximum users can have on their bPay balance is £200.
Barclays head of sales and partnerships Rob Morgan said it was hoped it would give customers a "compelling reason to carry a reusable cup as part of their daily routine".

The aluminium Clever Cup goes on sale from late November for £14.99.

"Contactless technology has become increasingly prominent in our daily lives and through the launch of the new Costa and Barclaycard Clever Cup we hope to appeal to those tech-savvy customers to help facilitate and drive environmentally-friendly behaviour," said Costa Coffee MD Jason Cotta.