Packaging-free trials are on the rise across the mults. But can they work at scale? And is consumer demand sufficient?
Refillables are having a moment. This month, Aldi became the first UK discounter to trial a refill station (albeit using paper bags, rather than reusable containers). It followed in the footsteps of Asda, which launched 15 refill stations under its sustainability store concept late last year.
Similar trials are underway at Waitrose, while Tesco is set to launch its reusable packaging scheme with Loop this summer. At the same time, online zero-waste grocers are emerging and prospering. Like Good Club, which last month reported turnover growth of 500% year on year.
It seems everyone wants a piece of the refillable action. But is the widespread consumer demand really there? Do the environmental benefits add up? And can these systems ever truly go mainstream?
The public will is the easy part. At least, that's been the experience of Catherine Conway, founder of refill business Unpackaged, which has helped the likes of Waitrose, M&S, Sainsbury's, Co-op and Ocado to shed packaging. The long months at home during lockdown have sparked greater consideration for the environment, she believes. "People have had a reassessment of their lives and impact," she says.
"There is this consumer pressure that is not letting up," Conway adds. "And it's even stronger since Covid."
Forrester research this month found 38% of UK consumers said they spent more time thinking about climate change than before the pandemic.
As a result, consumers are paying closer attention to issues like packaging. Research from M&S – which extended its Fill Your Own offering to a third store in December – found two thirds of consumers were more likely to consider using refill stations than a year ago, and around one in four (23%) shoppers were actively seeking retailers that offered the service.
"It's clear that demand for refillables is strong," says Paul Willgoss, M&S Food's director of food technology. "Our customers care about the issue of plastic."
Shiv Misra, founder of Brighton-based closed loop online grocer Roots & Hoots, believes many shoppers are already sold on the concept. "Conscientious customers will lead the way in adopting this new lifestyle and businesses don't have to educate them on the benefits of such a system," he says.
"There's this opinion that it's for the rich, middle classes, the premium end of the market, but actually there's a general feeling from all customers"
And it's not just a middle-class concern. Wealthify research this month found being an ethical consumer was slightly more important to those with the lowest household incomes than any other demographic.
"There's this opinion that it's for the rich, middle classes, the premium end of the market, but actually there's a general feeling from all customers: 'You need to do something about this. Stop making this [packaging] my problem'," Conway says.
The need to move away from these premium connotations is illustrated by Asda, which specifies its trial to be "affordable and accessible to all customers". Aldi has hammered home that need too – the products in its refillable aisles are even slightly cheaper than their packaged equivalents.
Its plastics and packaging director Richard Gorman says the trial comes in response to its shoppers, who are "increasingly conscious of the environment and their impact on it".
While pleasing consumers is a considerable carrot for retailers, the big stick of regulation is looming too. Retailers and suppliers face massive costs under government plans to make them pay for packaging waste.
Extended producer responsibility (EPR), which will see those who create packaging essentially pay the costs associated with its disposal, is set to come into force in 2023. The government consultation estimates it will cost producers in the region of £2.7bn in the first full year of implementation. Supermarket bosses have warned the true costs could be even higher, especially amid further proposals for a new tax on plastic materials with less than 30% of recycled material.
"The incumbents are really set upon at the moment," says Good Club founder Ben Patten. "For companies that aren't providing reusable packaging, and selling in single-use packaging, the costs will start to increase." As Conway puts it: "The retailers feel there is a bit of fire to their feet at the minute."
Until now, the emphasis has been on recycled packaging. That makes sense, given refillables demand significant change in processes from retailers, in a way that new packaging doesn't. "The reason recycling is so popular is because it allows everyone to carry on with business as usual," Conway says.
Now the focus is shifting to refillables, there are logistical challenges – especially for online retailers. Finding packaging that can weather countless reuses (typically around 40 cycles but increasing all the time) is "going to be a constant source of focus" says Patten.
Misra says "big investment was needed at the start" of Roots & Hoots, which operates on a home delivery model. "We lose money when people don't return the packaging material," he says. "We see a good rate of returns, but we still have some leakage."
"We lose money when people don't return the packaging material"
There's also ongoing work to reduce the physical size of collections. On this front, Good Club is working with the government's Innovate UK on nesting containers. Patten says the "holy grail" is to only collect one tote from customers, in which all the other containers "fit inside each other like Russian dolls".
Plus, there's the issue of keeping deliveries low-emission and the added burden of washing containers, which in Good Club's case is environmentally sound but "doesn't stack up financially".
The complications extend to in-store refillable aisles. "You've got this whole added operational piece that just doesn't exist when you're taking 12 tubes of toothpaste out of a cardboard box and putting it on a shelf," Conway explains. "Supermarkets all come into it saying, 'we know we want to do this. And we know we should do it. And we know that our customers are asking for it. But it's going to cost us money.'"
That's even on the maintenance side. The refill stations must be regularly filled and cleaned. Waitrose, M&S and others have 'hacked' the problem with on-site washing stations, but those won't scale and the cleaning is "so labour- intensive" Conway says.
Do refillable deliveries stack up environmentally?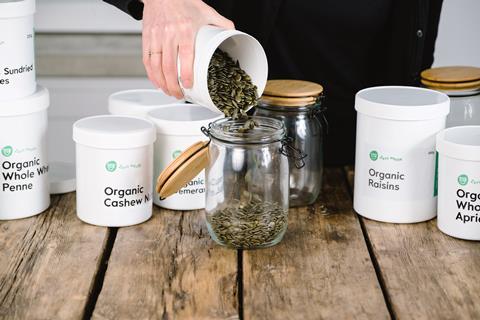 Bricks & mortar shopping generates more than double the emissions of online, an Oliver Wyman analysis found this month. That's mainly due to the energy required to run stores, and the fewer emissions generated by one van delivering to multiple households, compared with each person driving individually to a store.
But online grocers who deal in refillables typically collect shoppers' empty containers once decanted, and wash them before reuse. Do the advantages remain?
Good Club collects containers next day, which travel to HQ and then go "100 miles up the M1" to an external cleaning facility. "Which means all of our pots are going to Leeds and back before we refill them," explains founder Ben Patten. Yet "from an environmental perspective, it still stacks up. It's still more efficient, by quite some distance, to be using reusables."
Independent analysis determines a carbon negative impact of 80kg over four years compared with single-use packaging. Further gains are promised by moving operations closer to the cleaning facility – part of Good Club's plans.
Still more efficiencies can be squeezed from closed loop operations, says Roots & Hoots founder Shiv Misra.
"We use an electric vehicle for all deliveries and picking and we optimise our delivery routes so the van doesn't make unnecessary trips," he explains. "And with all our repeat customers, we do the pickups when we deliver their next order."
The brand also uses cotton bags and aluminium tins to keep weight down, meaning vans can go further between recharges. While "not a perfect solution", Misra says it is "the best solution available".
Working at scale
But refillables at scale can be done, she argues. "If we rethink this, and start with a supply chain, and work backwards into the retail space, then actually we might be able to bring supermarkets some economies of scale they may not otherwise have gained," she explains.
"If we can get this so it's cost neutral, then everybody will move because we're going to massively reduce the amount of packaging," she adds.
One answer is for suppliers to replenish directly into the stations – as is already being done by many dairy suppliers into farmgate vending machines. Another lies in large regional washing centres that can handle cleaning for all the mults. Conway says Unpackaged is working on a "big, mega project" with several retailers, details of which can't yet be revealed, which will standardise processes and make them more efficient.
"We've got a lot of the big guns engaging with us in a way that was quite unexpected, given the pressures they were facing with Covid," she adds.
This level of will has created plenty of positivity around the potential growth of refills. Taking containers to the supermarket could become as habitual as bags for life, some argue. "If we make the process convenient and get the pricing correct, I don't see any reason why this can't go mainstream," says Misra.
Conway is similarly upbeat, despite the challenges. "There are times when I'm tired, and I feel like it's all a bit pointless," she says. "You know, these businesses exist to sell products. It's hard. There's a lot of things that need to change at once." Some major corporations that have pursued packaging-free "are still recovering from the internal bruises", she admits.
But there is now a shared mission. "We are now all pointing in the direction that is going to hasten the implementation of the circular economy," Conway says. "I'm positive. But I'll always be the one banging the drum saying 'this needs to happen faster'."
What the mults are doing to boost use of refillables
Sainsbury's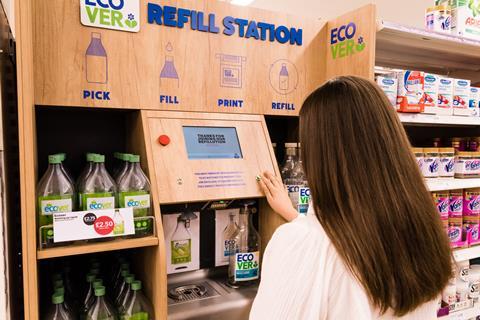 The supermarket partnered with Ecover to launch refill stations into 20 stores last year. If the trial is successful, it will be rolled out "more widely across the estate" Sainsbury's says.
Customers can fill up the reusable packs, supplied by Ecover, up to 50 times. Those same refillable packs can also be found in hundreds of independents, and several Waitrose stores.
Tom Domen, global head of long-term innovation at Ecover, says the trial is "an important step in realising our goal of making refills more accessible for everyone".
Aldi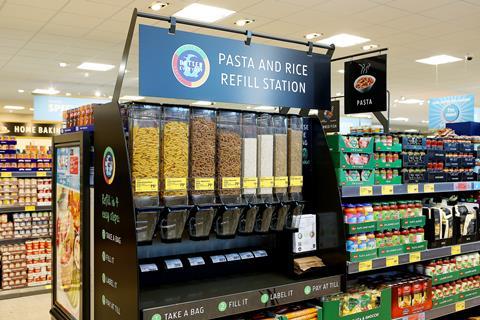 A clear sign refills are reaching the mainstream, Aldi this month launched its first 'packaging-free' trial at its store in Ulverston, Cumbria. Four household staples – basmati rice, brown rice, penne and wholewheat fusilli – are available to buy loose, though customers are being asked to fill (recyclable) paper bags, rather than their own containers.
If successful, a wider rollout is expected, which the discounter's plastics and packaging director Richard Gorman says "could remove more than 130 tonnes of plastic annually from stores".
Tesco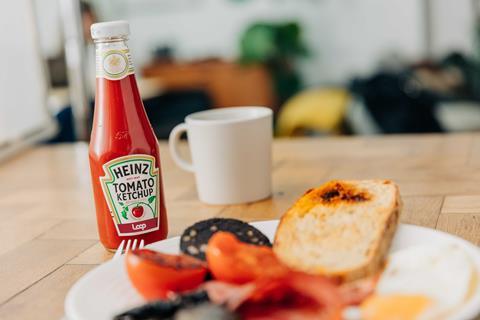 Since launching in July, Tesco's collaboration with TerraCycle's Loop has delivered thousands of online grocery orders to more than 500 UK towns and cities, the retailer says, with every shop meaning fewer pieces of single-use plastic arrive on doorsteps.
This summer, the scheme is set to be realised in Tesco stores. It follows the example of Carrefour, which did so in December. Loop and Tesco indicated the in-store scheme would see "a range of products that are pre-filled in reusable packaging alongside conventional products".
Waitrose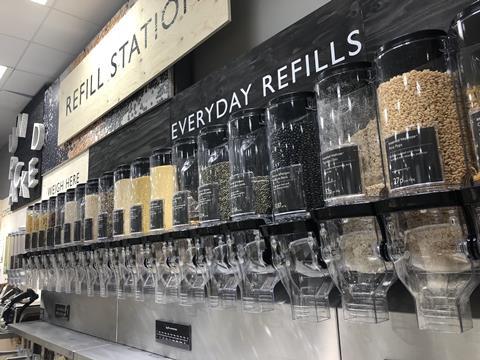 Waitrose went plastic-free on 200 lines in 2019 with its Waitrose Unpacked launch at stores in Oxford, Abingdon, Wallingford and Cheltenham. The initiative has not expanded further as yet but in January evolved significantly.
In Wallingford, product refill stations are now situated alongside packaged products on shelves, rather than in a dedicated aisle. "This next phase will help us to understand if we can make refillables a routine part of customers' shopping trips," says CEO James Bailey.
Asda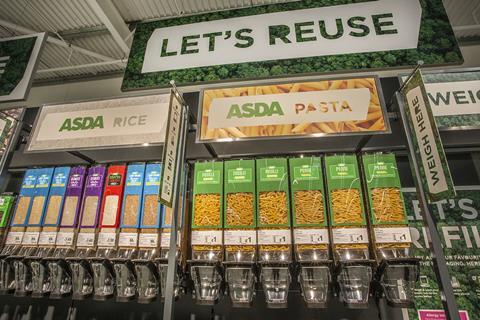 Asda launched 15 refill stations at its sustainability-focused Middleton superstore in October. These offer a selection of more than 30 household staples from Asda's own brand as well as Kellogg's, PG Tips, Quaker Oats, Lavazza, Taylors of Harrogate, Persil, Vimto and several Unilever brands.
The effort comes with a price promise: "Asda recognises that sustainable shopping must be affordable and accessible to all customers and commits customers won't pay more for greener options," it says.